Camp Nou Stadium Tour Guide: How to Visit Camp Nou in 2023
Camp Nou Stadium tours are the best way to live Europe's largest, most historic football stadium.
Home to legendary FC Barcelona, aside from taking the field yourself (you actually can!) the Nou Camp tour is the best way to experience world class football.
In fact, this Barcelona stadium tour is the second biggest tourist attraction in Catalonia behind the epic Sagrada Familia.
Here's everything you need to know about how to visit Nou Camp in one handy guide.
Camp Nou Tour Tickets: Where to Buy
ATTENTION: from May 29th 2023 Camp Nou will start an aggressive renovation project. During the renovation it won't be possible to book traditional Camp Nou tours.
From June 7th, the only tickets you can get are for the Immersive Tour, which includes the museum visit with English audio guide + access to the audiovisual space Spotify Camp Nou Live.
You'll find many online ticket resellers, but we recommend relying on our collaborator Tiqets, which help us to keep this blog (which we've dedicated 1000's of hours to) free 🙂
Here's a link to book the only current Camp Nou tour left:
Every Camp Nou booking helps us get closer to doing this blog for a living, so thank you 🙏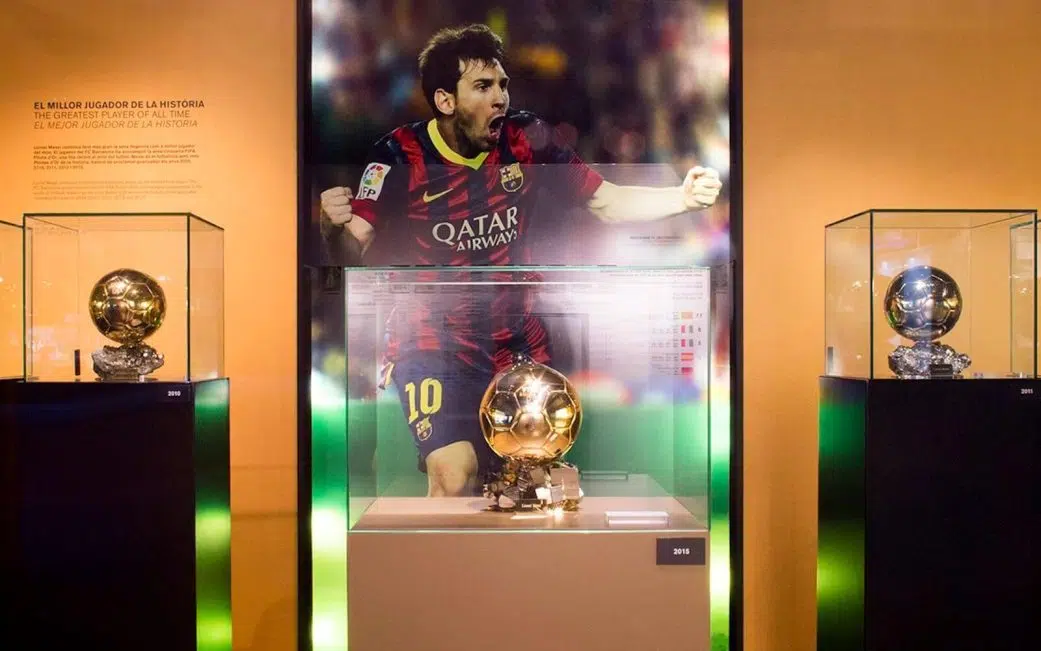 The Camp Nou Museum
It's here in this modern and interactive space that you appreciate just how good this club is.
You'll start off listening to the team anthem with a translation in just about any language needed.
It's in the museum where you can flip through touch screens with tons of info on the club's greatest players. You'll also get a great snapshot into the team's history watching a video presentation of some of the club's biggest moments on a massive screen.
⚠️ 

Warning

⚠️

: Barcelona's top two attractions must now be booked in advance.
You can book fast track tickets to both individually or get them as part of a discount pass:
You will not be able to book these tickets on site – lock in your tickets ASAP or you could miss out.
You can take a selfie with the 22 League trophies and 4 Champions League trophies on display – there's just a ton of memorabilia and equipment spanning the club's 100+ years of history.
Top it all off with a visit to the largest official FC Barcelona team shop.
Camp Nou Museum Prices
| | |
| --- | --- |
| Camp Nou Immersive Tour | Price |
| Adults | €28.00 |
| Seniors (70+) | €21.00 |
| Kids (4-10) | €21.00 |
| Students | €20.00 |
| Kids (0-3) | Free |
Adding the Camp Nou Museum Audio Guide
The audio guide, available in English, is not included in the standard ticket and must be added during the booking.
It costs €6.00 and I recommend it only to those who are truly interested in curiosities about Barça.
You can request earphones or bring your own headphones.
The duration of the audio guide is about 1 hour and is concentrated in the museum part, so if you are accompanied by someone who has little patience, perhaps it is not for you.
Expect the audio guide to go into deep detail about:
Paulino Alcantara's shoes (the first Messi of 1910)
The history of the first FC Barcelona stadium
What happened during the Franco dictatorship
Anecdotes about the goalscorer Kubala in the 1950s
The construction of Camp Nou
Tidbits about Johan Cruijff, Maradona, Ronaldinho, and Messi
Much more.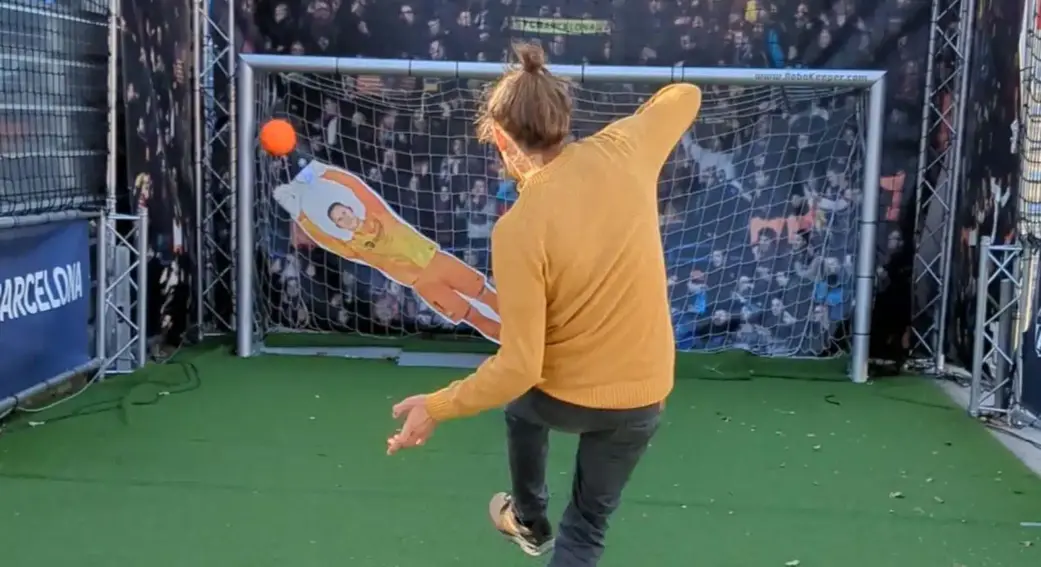 Robokeeper
This is our favorite part! Here you can try to beat the world's best keeper – which is actually a robot.
Three shots cost €6.00 and you can pay it straight to the guy at the start of the queue.
There's really only one way to score here, and that's burying it Beckham-style into the top corner 😉
In fact, there's a video online of Messi and Neymar missing – so good luck!
Oscar naturally buried his first shot, then decided to retire.
Final score: Barcelona Hacks 1 – FC Barcelona 0.
Spotify Camp Nou Hours
FC Barça stadium tour opening hours and accessibility vary depending on scheduled matches (more info below).
Once you've entered there is no time limit on your stay within the opening hours.
Last entry is 90 minutes before closing time.
Entrances times are staggered every 30 minutes (9:30, 10:00, 10:30 etc.).
The stadium portion of the Camp Nou tour is closed to visitors the day of La Liga matches.
For Champion's League matches the stadium is closed both the day before and day of the match.
In both cases only the museum and the stadium panorama (until 6 pm) remain open.
How to Get to Camp Nou
You'll find the stadium in the upscale Les Corts neighbourhood about 5 km from the city centre.
It is strongly recommended to visit Barcelona using the best discount Barcelona transport passes.
The address of Camp Nou is C/Arístides Mallol 12.
🚌 Heading to Camp Nou? Make sure you know how to get around Barcelona on public transport first.
Getting to Camp Nou by Metro
The quickest way to get to Camp Nou is via one of the three Barcelona metro stations: Palau Reial (green line L3), Les Corts (green line L3), or Collblanc (blue line L5, orange line L9S).
If you've found a place to stay near La Rambla and the Gothic Quarter your best bet is the green line.
If you're near Sagrada Familia or in the Eixample neighbourhood consider the blue line.
Each metro station is approximately 8-10 minutes walking from the stadium.
It'll take about 25-30 minutes door-to-door from anywhere central.
Related: Where to Buy Camp Nou Tickets
Getting to Camp Nou by Taxi
A standard Barcelona taxi fare from most city centre locations to Camp Nou runs about €10.00 – €14.00.
Since Camp Nou is a bit out of the way this is a great chance to take advantage of my €5.00 discount on Spain's taxi app program: Free Now (formerly MyTaxi)
For more information see how to sign up with Free Now.
Expect to pay €7.00 or less using this offer – almost as cheap as the metro if you're travelling in a group!
Getting to Camp Nou by Bus
Camp Nou is also reachable by buses 50, 54, 57, 70, 75, D20, H8, H10 and V3.
It is strongly recommend to consult with your hotel, Airbnb discount homestay, or Barcelona holiday apartment owner before taking a bus as any misadventures finding stops can add a lot of time to the journey.
Related: How to Get to Sagrada Familia from Camp Nou
Getting to Camp Nou by Tram
The tram station for Camp Nou is Trambaix Avinguda de Xile. It is served by the T1, T2, and T3 lines.
The tram service is primarily for outside neighbourhoods like San Joan Despi, San Just Desvern, and Cornella. The Barcelona stops include L'illa (home to a large Barcelona shopping mall) and Plaça de Francesc Macià.
Camp Nou Experience Hacks
Get there as early as possible to avoid the crowds (just after lunch is the busiest).
Leave 90-180 minutes for the tour depending on your football love.
If you want to tour Nou Camp don't wear green if you want a picture with the pitch!
Bring comfortable shoes (not flip flops or heels) cuz you'll be walking a lot.
If there's a chance of rain dress accordingly (the stadium has no roof!).
Get the audio guide for the full experience.
The massive club shop has everything but watch the prices.
Don't eat there – go to the best restaurants near Camp Nou.
If you have restricted luggage for the flight there's an FCB shop at Duty Free.
Related: How Big is Camp Nou Stadium?
Camp Nou Match Tickets + Seating Chart
A ton of you have been asking how to buy tickets for FC Barcelona matches and I must say that first of all the city's season ticket holders have been holding on for generations and especially for bigger matches you may be out of luck.
That said, if you're going to find any at honest prices they're going to be through tourist ticket giant Tiqets. You'll find a list of matches for sale and ticket prices by clicking the button below:
The three sections available are GOL 1, 2, and 3 (behind the goal) and LATERAL 1, 2, and 3 (at midfield). The fantastic sight-lines are perfect for seeing Messi and company in action.
Here's a map of the seats available: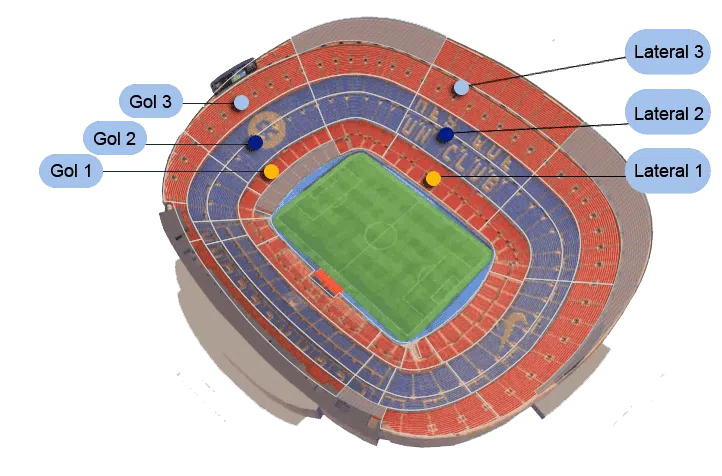 How to Use your Match Tickets
If you've bought your Barcelona match tickets using the link above make sure you arrive at Camp Nou about 30-45 minutes in advance – or get there really early for some romantic time between you and the field before crowds arrive.
The tickets can be printed or shown on your smart phone.
For premium matches like Real Madrid or any of the Champion's League playoff fixtures you'll probably find slim pickings: if you're having trouble drop me a line at [email protected] and I'll try to pull some strings for you!
Related: What to Do Near Camp Nou
Camp Nou Stadium Tour History
By the late 1940's rising football power FC Barcelona had outgrown the Camp de Les Corts and needed a new stadium to house all the new fans generated by star striker Ladislao Kubala.
Cue the aptly named Camp Nou ('New Camp').
The city broke ground on this UEFA five star stadium on March 28th, 1954.
When the last brick was laid Camp Nou had a capacity of 99,354. The ground was set for some of the greatest teams in football history to frustrate opponents – like hated rivals Real Madrid.
Long before any tours of Camp Nou the stadium hosted the Olympics, World Cup (with 120,000 spectators including added standing tickets), the Champions League Final, and even the Pope.
A €600 million Camp Nou renovation project is currently underway – but the games go on!
Related: How Many Days Should I Stay in Barcelona?
Camp Nou Stadium Tour FAQ
Is Camp Nou free entry?
No, tickets must be bought for the Camp Nou Experience (museum/tour) or a match to visit.
How much are Camp Nou Stadium Tour tickets?
Basic stadium tours start at €26.00 for adults and €21.00 for children and seniors, while more expensive tours with admission to dressing rooms (and more) cost €139.00 and €92.00 respectively.
Should I book my Barcelona Stadium Tour tickets in advance online?
Yes, you get the best price and it's the only way to skip the lines. Booking offline also carries with it a €3.50 handling fee per ticket.
What is included in my Camp Nou Experience ticket?
You get liberal access to the stadium, the elaborate Barça Museum, the Multimedia Zone, and the Messi Zone. Booking with Tiqets also gets you a free audio guide.
Is the basic Camp Nou tour ticket a guided tour?
No. The basic Camp Nou tickets are open visit where you can go at your own pace.
Can I take a Camp Nou tour on game day?
Yes, but the field aspects of the ticket will not be able to be realized. You'll only have access to the Camp Nou Museum.
How long is the Barcelona Stadium tour?
Going at your own pace means it depends on you. That said, most tours average 90-120 minutes.
Is there a time limit to the Camp Nou visit?
No. You're free to soak up the Camp Nou Experience as long as you wish within opening hours.
If I buy a match ticket will the Camp Nou museum ticket be included?
No. These are tour separate tickets and you'll have to pay extra.
Which Camp Nou tour is best?
The best value tour comes from the general admission ticket from Tiqets which includes an extensive 25 minute audio guide (a €6.00 value) for free.
When is the best time to take a tour of Camp Nou?
The best time to take a Barcelona Stadium tour is early as possible, especially in summer – that way you avoid the crowds. Take the first slot at 10:00 am to be sure.
Which metro station do you use for Camp Nou?
Camp Nou can be accessed by the Palau Reial (green line L3), Les Corts (green line L3), and Collblanc (blue line L5, orange line L9S).
Expect to walk between 10-15 minutes from each station.
Does the Camp Nou tour have access for persons of limited mobility and the elderly?
Partially. The staff only guarantee access to the museum and the panoramic view from the second deck. The rest of the tour involves many stairs, though plans to make it completely accessible are in the works.
Is there somewhere to eat on the Camp Nou grounds?
Yes, you'll have Tapas 24 and the legendary Spanish fast food joint Pans and Company.
Is there a place to buy souvenirs at Camp Nou Stadium?
Yes! The tour ends going through the massive FCB Megastore.
Can I take photos at the Camp Nou Experience?
Of course!
Can I get to Camp Nou directly from the airport?
Yes, simply take the L9 metro (orange line) to Collblanc stadium from either terminal.
Can I bring my camera to Camp Nou?
The only prohibition expressed by the stadium is that no professional cameras are allowed. This would mean massive telephoto lenses that could obstruct the view of other spectators.
A friend brought his SLR camera with a 200 mm lens and encountered no problem, though bigger than this you may want to urge caution.
Where is Camp Nou in Barcelona?
Camp Nou is found at C. d'Arístides Maillol, 12 in the Les Corts district of southwest Barcelona.
Is Camp Nou pitch bigger?
The pitch at Camp Nou complies with FIFA regulations and clocks in at 105 m x 68 m: the same as Premier League clubs like Arsenal and Manchester United.
It is relatively small compared to Spain's biggest pitch in Elche which measures 108 m x 70m.
Where to sit at Camp Nou?
Football fanatics should look to sit in the Gol Nord Zone because it's the closest area to the pitch where you won't spend a ton of money.
It's also home to some of the most enthusiastic, flag-waving supporters which create an authentic, exciting atmosphere.
How are Camp Nou seats numbered?
The are four main sections of the stadium: Tribuna, Lateral, Gol Nord, and Gol Sud.
Each section is served by multiple 'ACCES' areas from the street (numbered 1-22 on your ticket). From these areas you'll scan your tickets at a designated 'PUERTA' (entrance).
Once inside you'll access your seats going to the correct 'BOCA' (pitch entrance) and finding your FILA (row) and SEIENT (seat).
Camp Nou or Nou Camp?
Locals call it Camp Nou. The name Nou Camp is an anglofonized version so if you want to say it correctly then go with the Catalan version.
Why the name Camp Nou?
Though the original name of Barcelona FC's second stadium was the Estadi del FC Barcelona, it was more commonly referred to as Camp Nou (New Stadium) for obvious reasons – the name stuck.
It was only officially renamed Camp Nou for the 2000/2001 season, after 68% of the club members voted in favour of the change.
Taking a Tour of Barcelona Stadium?
Go ahead and ask me anything we didn't cover here, or tell me about your Camp Nou experience in the comments below.
Also don't be afraid to join the Camp Nou stadium tour discussion by first giving me a like on Facebook and then joining my group I'm Off to Barcelona – here you can ask any questions, air out grievances, and chat with thousands of Barcelona travelers.
Enjoy the FC Barcelona stadium tour ⚽