The Best Breakfast Near Sagrada Familia
When travelling you've gotta have energy first thing in the morning – especially if you're going to see Gaudi's greatness.
For all you early bird visitors, here's where to find the best breakfast near Sagrada Familia.
⚠️ 

2023 Warning

⚠️

: It's now mandatory to book your Sagrada Familia tickets in advance.
The only way to guarantee your spot is by booking Sagrada Familia tickets online:
Let's get after it:
Bar La Herradura: A typical Catalan bar which offers a simple breakfast of a "cafe con leche y un medio bocata" (a latte with half a sandwich: make sure you get it with jamon iberico bellota). This is one of those honest family-run bars that have a story to tell – in fact, the owner told me not to share the location because he doesn't want to be overrun. Now that's authentic Spanish. Just don't mention us! You can find it at Carrer de Lepant 258.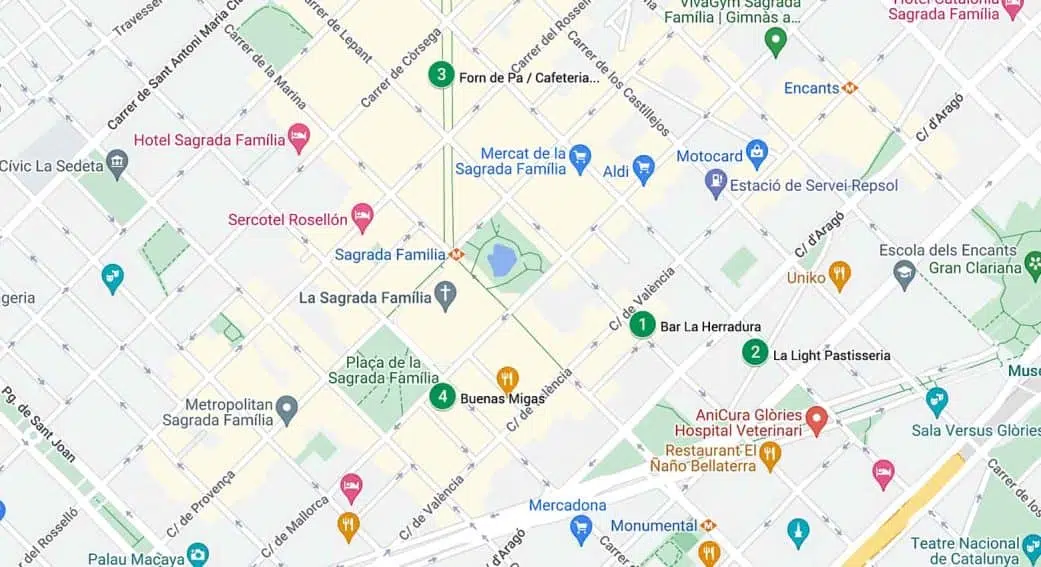 La Light Pastisseria: This Italian pastry spot is a reference point for anyone looking for a simple croissant and cappuccino. They also offer a variety of other pastries and desserts that would make any Italian nonna proud. Visit them at Carrer de Padilla 29, 5 minutes from the Sagrada Familia.
Forn de Pa / Puiggros 2: This bakery bar is located 5 minutes from the Sagrada Familia, along the beautiful Av. Gaudì at number 39. Here you can try different typical Catalan pastries (such as Canya de Crema or Ensaimada). They also do mini sandwiches and toast.
Buenas Migas: Easily one of the most famous chains in Barcelona, you'll find Buenas Migas all over the city. They offer a good variety of breakfasts, in the sense that you can find both British and Italian options, in addition to the typical Catalan fare. You'll also find a great cafe con leche. It's fantastic location in Plaça de la Sagrada Familia 17 is basically in front of the Sagrada Familia.
Finally, remember that whatever option you choose for breakfast, remember to book your visit to the Sagrada Familia online well in advance as it's now mandatory to pre-book.
Have you tried any breakfast restaurants near Sagrada Familia? Let us know how it went in the comments below.
Also, don't be afraid to write us if you need something a little more specific! We answer all questions 😉