8 Best Barcelona Wine Tours + Top Wine Tours from Barcelona
The best Barcelona wine tours are a feast for all five senses.
You'll walk amongst the grapevines, learn about the winemaking process, and hear fascinating stories about the Catalonian countryside.
Taking a wine tour of Barcelona is also a chance to discover the secret behind every bottle, and the labour of love that makes each sip worthwhile.
A little spoiler – the Penedes Wine + Cava Tour won out for is authenticity, length, and price.
That said, let's break down some other top-rated wine tours from Barcelona.
Best Barcelona Wine Tours & Winery Excursions
When you think of Barcelona, the mind instantly conjures images of the Gothic Quarter, Sagrada Familia, and some of the city's best beaches.
Yet, most visitors are unaware that one of its most treasured offerings lies in the wine tours just outside the city – exploring the world of Catalan wine.
Here's a preview of what you'll sample on top wine tours of Barcelona:
Penedès – Renowned for producing an array of wines, but most widely known for Cava, Spain's answer to champagne.
Priorat – One of two wine regions in Spain to hold DOC status, known for luscious reds such as Garnacha and Cariñena.
Empordà – A lesser-known region that is steadily gaining recognition for its high-quality reds and whites.
Here, I've carefully curated a list of my favourite Barcelona wine tours to seamlessly transport you from the urban jungle to the rustic Spanish countryside.
I've also got a bunch of wine tours right in the city of Barcelona – so let's keep reading!
Best Wine Tours Barcelona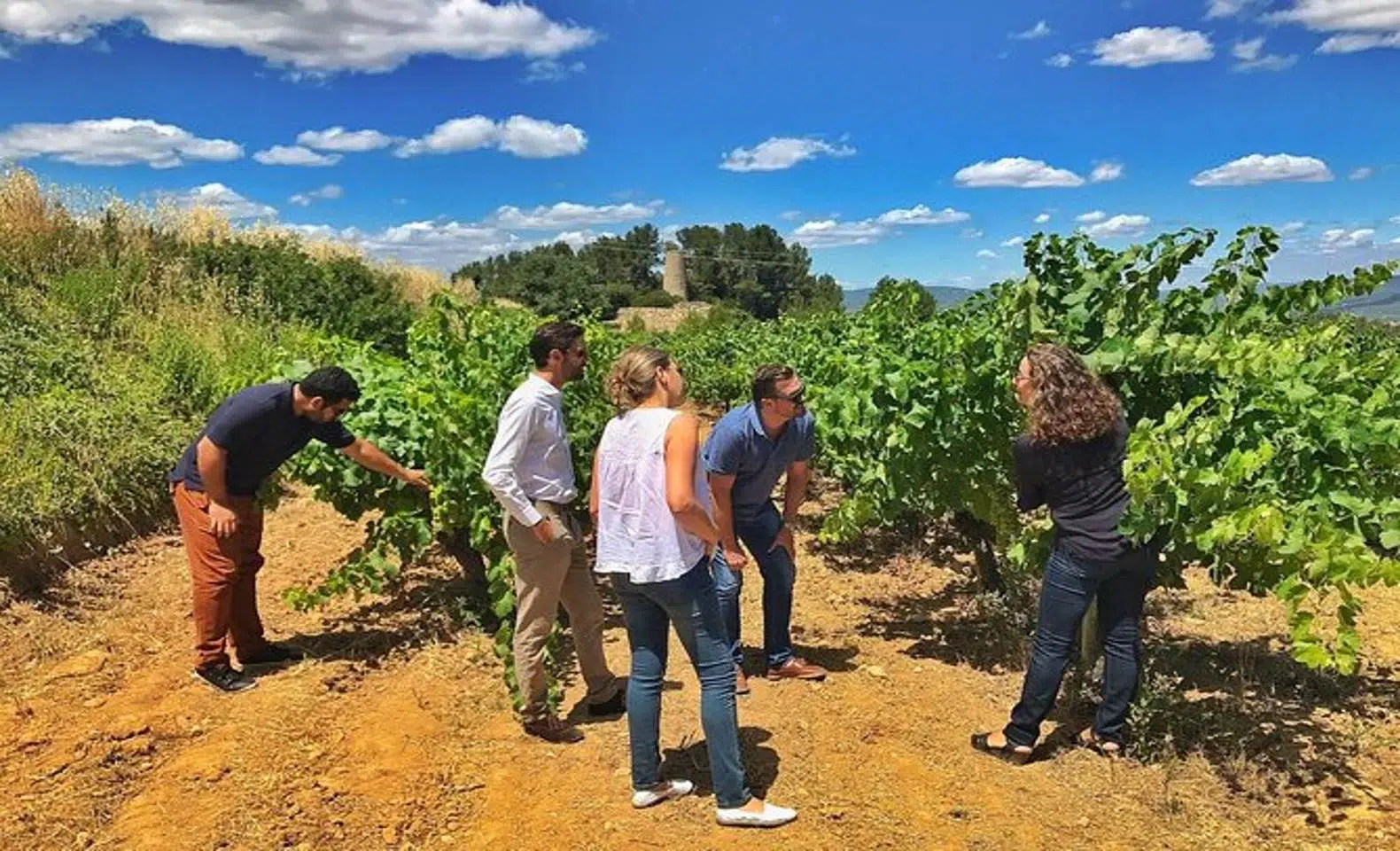 Barcelona Wine & Cava Tour with Tasting – Best Barcelona Winery Tour Overall
Area: Penedès | Starting Point: Estacion del Norte | Duration: 7 hours | Price: From €95.00
This Barcelona wine tour will allow you to immerse yourself in the tranquillity of the Spanish countryside on an extraordinary day trip to Catalonia's finest wineries. You'll be whisked away to the renowned Penedès region, the heart of Catalan wine culture.
Once you arrive in your air-conditioned shuttle, you'll gain privileged access to some of its most celebrated wineries, where the magic of crafting world-class vintages and cava – Catalonia's own sparkling wine – unfolds.
The tour includes a diverse array of tastings at three select vineyards. Even better, you'll be presented with an enticing selection of local cheeses and tapas for a true gastronomic celebration of Catalan tradition.
Throughout your tour, you'll be accompanied by a knowledgeable local wine connoisseur who will elevate your experience with fascinating tales and insights about this rich wine region that is world-renowned for its sparkling wines.
Includes:
Multi-lingual guided wine tour of Spain's famed Penedès wine region.
Wine and Cava tastings at three select vineyards (including Can Ràfols dels Caus Cellars & Llopart).
Air-conditioned coach transport to/from Barcelona's city centre.
Cheese, Iberian ham and tapas pairings.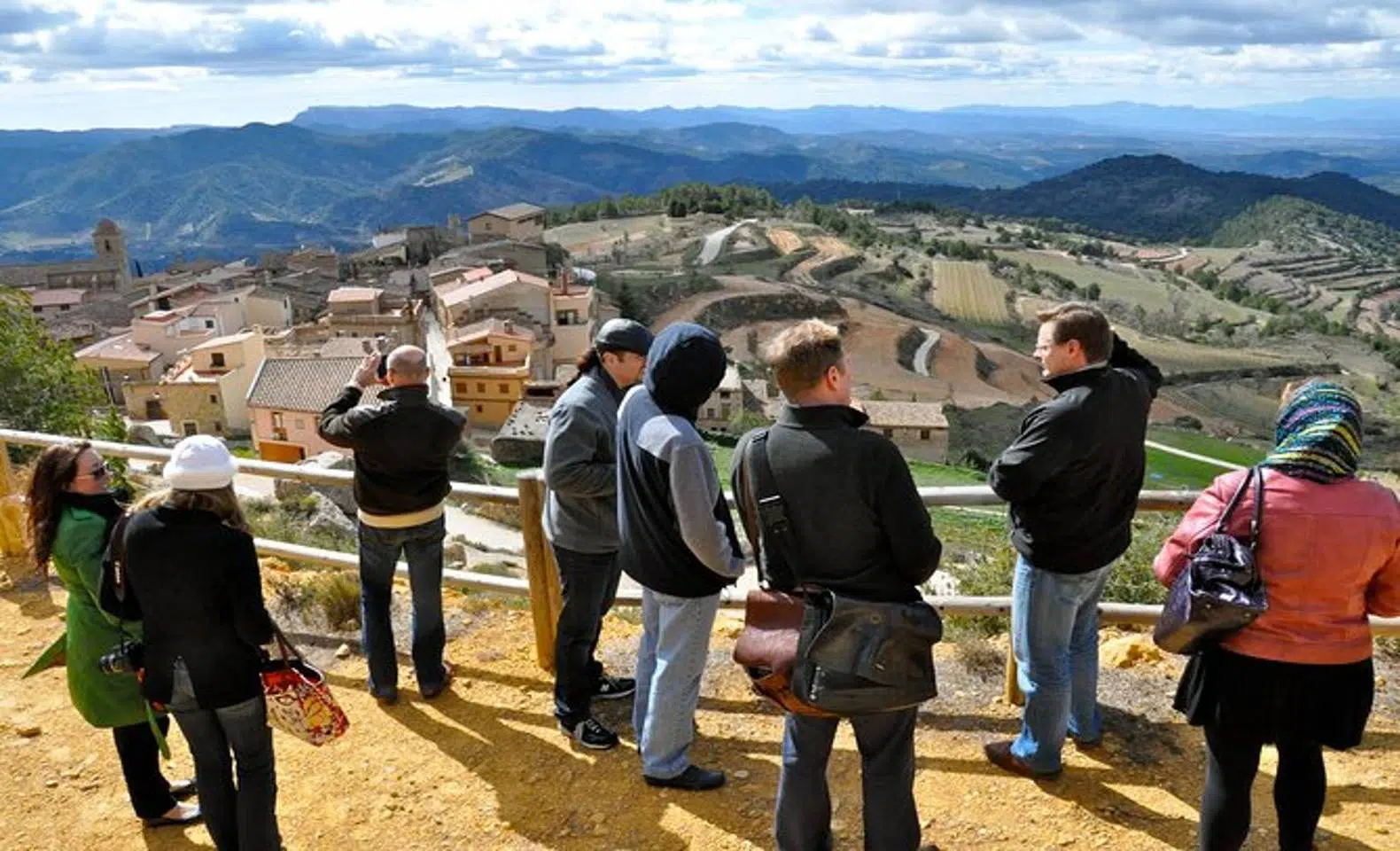 Priorat Wineries Tour from Barcelona – Top Barcelona Wine Tour for Enthusiasts
Area: Priorat | Starting Point: Placa Catalunya | Duration: 11 hours | Price: From €220.00
If bubbles aren't quite your jive, I highly recommend this all-encompassing tour of one of Priorat, one of Spain's most vital red wine-producing regions.
Located in the neighbouring province of Tarragona, it is one of only two regions in Spain to have the special appellation D.O.C, recognizing its wines' outstanding quality and consistency.
In the heart of the revered winemaking villages – Morera de Montsant, Gratallops, and Porrera – you'll embark on a journey through three distinct tasting sessions, each promising a sampling of unforgettable local flavour profiles.
Your adventure will also feature a sumptuous three-course lunch at the lauded Clos Figueres winery. Here, the region's culinary finesse comes to life in a feast of Catalan specialties flawlessly paired with their extraordinary wines.
Priorat is about 2 hours southeast of Barcelona – so this wine tour isn't ideal for casuals. But if you're a true diehard, this Barcelona wine tour offers you a sampling of Spain's best red wine on a silver platter.
Includes:
11-hour guided wine tour of the Priorat wine region.
Air-conditioned transportation to/from Barcelona's city centre.
Visits to three Priorat wineries (Celler Devinssi, Clos Figueras, Clos Dominic S.L.)
Three-course lunch featuring authentic local cuisine.
Barcelona Tapas and Wine Experience – Best Wine Tour in Barcelona
Area: City Centre | Starting Point: Plaça Sant Jaume | Duration: 3 hours | Price: From €95.00
Many travellers looking to enjoy a Barcelona wine tour prefer to sample a few glasses of the region's finest wines – from the comfort of one of Barcelona's best restaurants.
Taking this wine tour of Barcelona – which doubles as one of Barcelona's best food tours – is the perfect way to cap a day at the beach or an afternoon at Park Guell.
It's neither too time-consuming nor too costly, making it a great option for younger travellers or more casual wine drinkers.
You'll visit some hidden local Barcelona gems in historic neighbourhoods like the Gothic Quarter and El Born to revel in an abundant array of mouthwatering Catalan cuisine, including jamon Iberico, patatas bravas, pan con tomate, and more.
And, of course, it'll be washed down by an impeccably curated selection of the region's top wines. You can even upgrade to infuse your gastronomic adventure with a thrilling Barcelona flamenco show.
Includes:
3-hr guided wine and tapas tour of Barcelona.
Tapas and local food tastings at four local restaurants (enough for a meal).
Carefully curated wine pairings at each stop.
Walking tour of the Gothic Quarter & the Born.
Optional upgrade to include a flamenco show.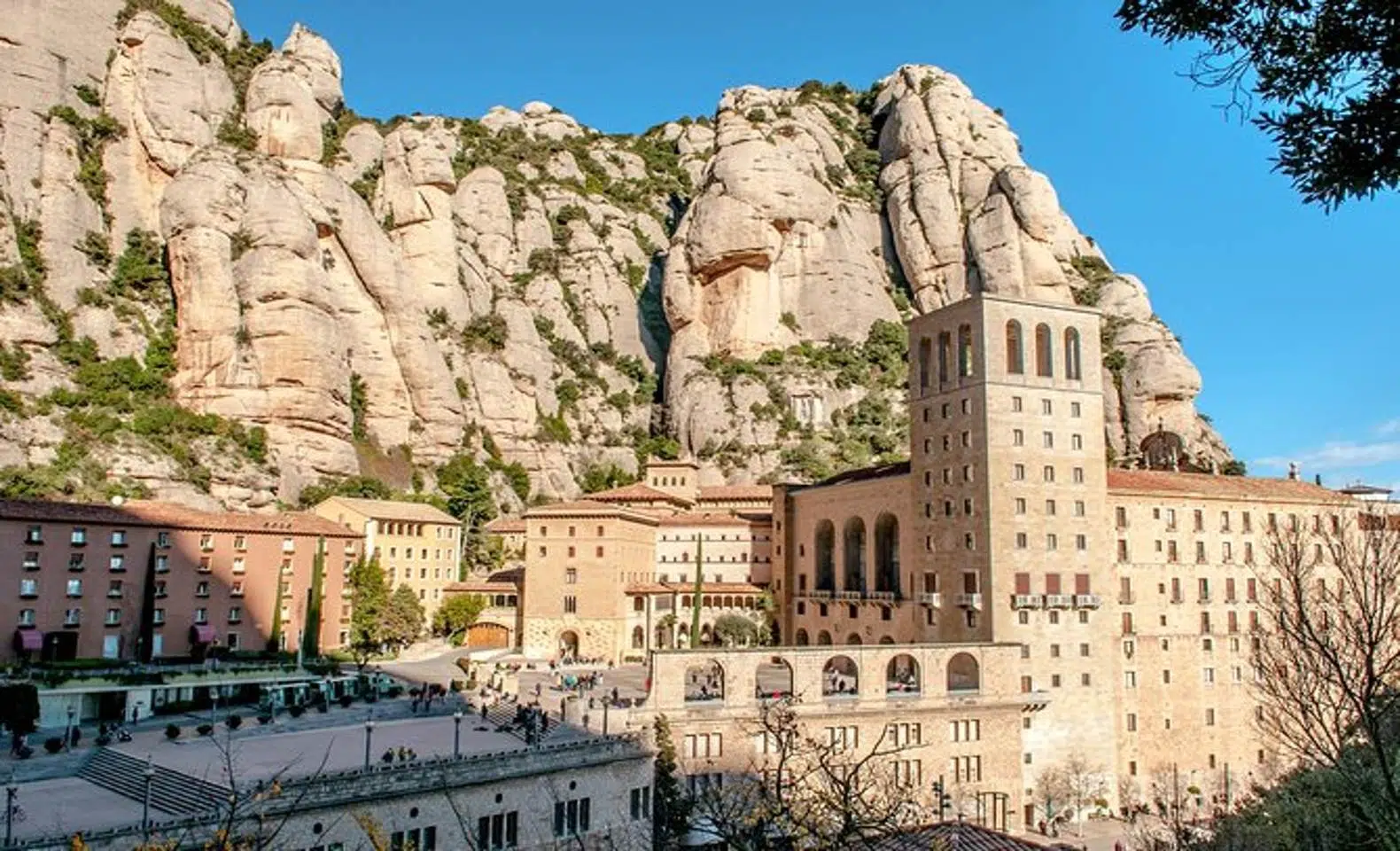 Montserrat & Wineries: Round Trip + Wine Experience w/Traditional Meal – Top Wine Day Tour from Barcelona
Area: Montserrat | Starting Point: Estacion del Norte | Duration: 9 hours | Price: From €104.95
Craving a getaway from Barcelona's lively tempo? Then how about taking to the hills for this Barcelona day trip to Montserrat? You'll jump on your cozy, air-conditioned coach and dash off to this stunning natural spectacle.
Once you've arrived, you'll climb the slopes in a quaint cogwheel train before exploring this mesmerizing mountainside monastery under the guidance of a local expert.
Imagine being awestruck by the heart-stopping vistas spreading across Catalonia. But it gets even better! You'll take a pit stop at an authentic Catalan restaurant for a hearty lunch. Then it's straight to the day's highlight – a beloved local winery.
Stroll through lush vineyards, peek into age-old cellars, and get savvy about the intriguing nuances of each local wine. And, of course, you'll receive three tastings to sample the versatility of the local varietals.
Includes:
9-hour guided tour of Monserrat and a local winery.
Air-conditioned transport to/from the Barcelona city centre.
Visit to the mountaintop Montserrat Monastery.
Option to attend the Boys' Choir Act l'Escolania.
Authentic Catalan lunch at a local restaurant.
Three wine tastings at a local winery.
Top Wine Tours of Barcelona: Runners Up
With so many wine tours to choose from, things can get downright confusing.
To simplify the process, I'm going to list a few more wine tours from Barcelona in case you didn't find what you were looking for above:
Wine Tours Barcelona FAQ
What is a Barcelona wine tour?

A Barcelona wine tour is a guided visit through some of the most renowned wineries and vineyards around Barcelona, Spain. These tours often include wine tastings, vineyard visits, and the opportunity to learn about Catalonia's rich wine culture.

Which regions are typically visited on a Barcelona wine tour?

A typical Barcelona wine tour can take you to various prominent wine regions around Barcelona. These can include Penedès, known for its Cava production, Priorat, celebrated for its robust red wines, and Empordà, which offers a variety of unique blends.

Some tours also feature lunch or tapas options, or side trips to destinations like Monserrat.

What types of wine can I expect to try on a Barcelona winery tour?

You will have the opportunity to try a wide range of wines on a Barcelona wine tour. This can include Cava, Spain's famous sparkling wine, as well as robust reds, such as Grenache and Carignan or  aromatic whites like Grenache Blanc, Macabeu and Carignan Blanc.

How long does a typical Barcelona wine tour last?

The length of a Barcelona wine tour can vary, but most full-day tours last around 7-10 hours. This usually includes travel time, visits to one or more wineries, wine tastings, and sometimes a meal.

Half-day tours are also commonly available, but they typically only offer tastings within Barcelona itself, this avoiding the time required for transportation.

Are meals or snacks provided during Barcelona wine tours?

Many Barcelona wine tours include a meal or snacks, especially if the tour lasts the whole day. This might be a traditional Catalan lunch or gourmet tapas, often paired with wines from the region.

However, the inclusion of meals can vary, as sometimes you'll only recieve a few local cheeses and ham to compliment the wine. It's best to check the specific tour details.

Are any wine tours offered in the Barcelona city centre?

To get the full Barcelona wine tasting experience, you'll be required to take an air-conditioned shuttle to the surrounding country side and regions such as Priorat, Penedès, or Empordà.

However, if you'd like to stay closer to town there is an array of tastings that take place in local restaurants, tapas bars, or even cooking classes. Just keep in mind, you'll miss out on the rustic ambiance of the Catalan countryside.
🚲 Wanna burn calories and learn the city? Check out Barcelona's top bike tours.
🏙️ Wanna see a lot more of the city?: Consider booking one of the Best guided tours of Barcelona
Ready to Select a Top Barcelona Wine Tour?
Taking part in a wine tour of Barcelona will offer you a treasure trove of experiences, whether you're a seasoned wine enthusiast or just looking to explore Catalonia's rich culture and picturesque countryside.
And whether it's the effervescent charm of Cava in Penedès, the robust and powerful reds of Priorat, or the enchanting blends of Empordà, you'll find a flavour for every palate.
Enjoy the best Barcelona wine tours! 🍷