Boss the Barcelona Metro with Discount Tickets and Tips
Understanding the Barcelona Metro is fundamental to having a good holiday.
The 11 lines (eight classic lines and three overland trains) are as prompt as any metro system in Europe, and perhaps more importantly – they're air-conditioned.
Aside from spoiled locals who have never commuted a day in New York or London, the only complaints you hear are tourists getting ripped off buying €2.40 single tickets.
But fear not; after reading my Barcelona metro guide, you won't be one of them.
Barcelona Metro Map
Click the button below to enlarge or download your very own Barcelona metro map.
You can also grab these at the Barcelona Tourism Office, the airport, or any metro stop.
Barcelona Metro Hours
| | |
| --- | --- |
| Day | Hours 2023 |
| Monday to Thursday | From 05:00 to midnight |
| Friday | From 05:00 to 02:00 (Saturday) |
| Saturday | From 05:00 all night |
| Sunday | From midnight to midnight |
| Holidays: Jun 23-24, Aug 16-17, Sept 23-24, Dec 31 | All day/night |
For those not fond of graphs, here it is again:
The Barcelona metro opens daily at 5:00 am, with the last train departing at 12:00 midnight. On Fridays and holidays, trains run until 2:00 am.
There is all-night service on Saturday evenings and holiday days on the 23rd of June, 16th of August, 21st and 23rd of September and New Year's Eve in Barcelona.
Service is limited on Christmas Eve till 11:00 pm for those spending Christmas in Barcelona.
Metro in Barcelona Train Frequency
Daytime: trains run every 2-4 minutes.
Evening: trains run every 6-10 minutes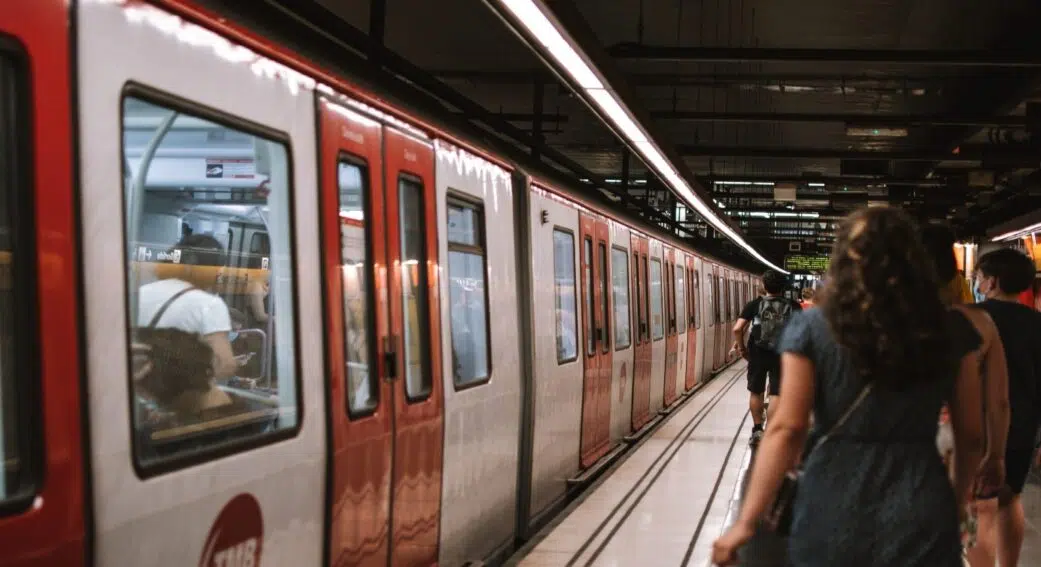 Barcelona Metro Tickets
You'll need to use the machines found in station lobbies to buy tickets for the Barcelona metro. Tickets are valid for the entire Barcelona transport network, including metro, bus, tram, and Montjuic funicular lines.
There is a supplemental charge for the Barcelona airport metro to the city centre: €5.15.
⚠️ 

Warning

⚠️

: Barcelona's top two attractions must now be booked in advance.
You can book fast track tickets to both individually or get them as part of a discount pass:
You will not be able to book these tickets on site – lock in your tickets ASAP or you could miss out.
Tickets can be purchased using cash or a credit/debit card.
All tickets have a 75-minute validity.
Related: Barcelona metro map
Barcelona Metro Prices
Locals typically buy a single zone 1 ticket for €2.40 or grab the T-Casual card (unipersonal, ten rides in zone 1) for €11.35.
There's also the T-Familiar card (interpersonal up to four riders, eight rides in zone 1) for €10.00.
Keep in mind that the fares listed above do not include the metro ride from Barcelona airport to the city centre, which will cost €5.15 per ride.
Tourists usually buy the all-inclusive transport card, the Hola Barcelona Card: with unlimited travel on the metro, bus, tram, funicular, and airport transport.
Prices for these passes start around €7.00 a day.
You can save 5% on your Hola Barcelona card by buying using the button below.
Here you get the lowest prices while giving me a small commission to cover server costs and the effort and time I put in… if you would like to help the blog, please reserve using the button above.
Add an Unlimited Transport on Top
Looking to combine the Hola Barcelona Card with the city's best airport transport?
Thanks to Tiqets, you now have the option to package a one-way or return ticket on the Aerobus (up to a €13.20 value) with the unlimited transport Hola Barcelona Card – you can book the Barcelona Transport Pass by clicking the button below:
Barcelona Metro Zones
The Barcelona transport network encompasses six zones.
Zone 1 includes the city centre and virtually all of the city's main attractions and best areas to stay. The odds of you leaving this area are extremely low.
Single ticket prices increase exponentially at €3.40 (Zone 2), €4.50 (Zone 3), €5.75 (Zone 4), €7.35 (Zone 5), €8.55 (Zone 6), respectively.
Take a look at the Barcelona metro zone map to familiarize yourself.
Barcelona Metro Passes
You can buy single tickets for €2.40, but the price and ticket machine lines are hardly ideal.
I always suggest tourists pick up a discount transport card that will give them unlimited metro access, like the Hola Bcn or Barcelona Card. They save you time and money.
You can always go with the T-Casual, but unlike the passes above, it's not valid for the airport.
Find out which discount card is right for you by clicking the banner below:
Barcelona Metro Lines + Attractions
L9S Metro (Orange Line)
The newest Barcelona metro line connects the city to both terminals of El Prat Airport.
It isn't the fastest line and won't take you to the most popular Barcelona hotels and Barcelona hostels where you're likely to be laying your head. The line is primarily used for residents getting home to the outskirts.
So you'll need to change lines if you want to get super central.
Connections: the orange line meets the red line (L1) at Torrassa station, the blue line (L5) at Collblanc, and the green line (L3) at Zona Universitaria
L1 Metro Barcelona (Red Line)
My favourite line crosses the city from east to west and stops at some of the city's great meeting points like Arc de Triomf (Ciutadella Park), Plaça Catalunya, and Plaça d'Espanya.
Finding a Barcelona holiday apartment along this line is about as convenient as it gets, as you'll be able to get around with ease.
Connections: the red line meets the yellow line (L4) at Urquinaona, the green line (L3) at Plaça d'Espanya, the purple line (L2) at Plaça Universitat, and the blue line (L5) at Sagrera and Plaça de Sants.
L2 Metro Barcelona (Purple Line)
This line connects the neighbouring city Badalona with Parallel.
The main points of interest along this line are the Sagrada Familia church, Passeig de Gracia and its famous Gaudi buildings La Pedrera and Casa Batllo, and the glitzy neighbourhood of Eixample and the rough and ready Raval.
Connections: the purple line meets the yellow line (L4) and green line (L3) at Passeig de Gracia, the blue line (L5) at Sagrada Familia, and the red line (L1) at Plaça Universitat and Clot.
L3 Metro Barcelona (Green Line)
This line twists its way around the city in a U-shape and serves quite a few main attractions.
You'll find three stops on the famous La Rambla along the green line: Plaça Catalunya, Liceu, and Drassanes. You'll also get to the best shopping in Barcelona at Passeig de Gracia and Diagonal. After a few stops, you'll also reach Plaça d'Espanya and the Magic Fountain.
Further along the line, you'll get to Park Guell (Vallcara), Barcelona FC's stadium Camp Nou, and Labirinto di Horta Park (Mundet).
Connections: the green line meets the blue line (L5) at Diagonal, the red line (L1) at Catalunya and Espanya, the yellow line (L4) at Passeig de Gracia, and the purple line (L2) at Parallel and Passeig de Gracia.
L4 Metro Barcelona (Yellow Line)
Arguably the most popular of the city's metro lines, the L4 is most useful for finding Barcelona's best beaches. But be careful! Especially in the summer, the line gets quite busy.
Along the yellow line, you'll find the bohemian Gracia neighbourhood, the Gothic Quarter's central square and its Barcelona Cathedral, the upper parts of the city and the Bunkers lookout, much of the best Barcelona nightlife and the casino at the Port Olimpic.
If you're looking for a great beach holiday, check out my Barcelona accommodation finder along the yellow.
Connections: the yellow line meets the red line (L1) at Urquinaona, the purple line (L2) at Passeig de Gracia, the green line (L3) at Passeig de Gracia, and the blue line (L5) at Verdaguer.
L5 Metro Barcelona (Blue Line)
I would call this the business line as it takes people from residential areas into the centre.
The main stop here is Barcelona's biggest train station: Sants. From here, you'll be able to catch a train to the airport, Madrid, or even France. You'll also get to Camp Nou at Badal station, and Sagrada Familia is home to Barcelona's famous church.
Connections: the blue line has connections with the green line (L3) at Diagonal, the yellow line (L4) at Verdaguer, and the purple line (L2) at Sagrada Familia.
Barcelona Metro Tips
Avoid taking it during rush hour (8:00-9:00 am and 6:00-7:00 pm)
Changing lines could leave you a long walk at Plaça Catalunya, Passeig de Gracia and Sants
Always walk further up the platform for more carriage space
Stick to a T-10 pass if you don't require unlimited travel
If you plan on using the system extensively, the Hola BCN card offers unlimited travel over a chosen time frame
The Barcelona Card tacks on free or discounted entry to a variety of local attractions, making it a great tool for visitors
Miss the last train? There's probably a night bus to get you back.
A good rule of thumb is to calculate 2 minutes per metro stop to get your travel time
Barcelona Public Transport Safety
In general, the trains are well-kept and quiet.
The only thing you'll need to worry about is the, unfortunately, all too common petty thievery in and around the stations. Check out my article on avoiding Barcelona pickpockets to stay one step ahead.
In short, you'll want to pay particular attention at the major Barcelona stations of Liceu, Drassanes, Placa Catalunya, Passeig de Gracia, and Sants.
Use common sense, and you'll be fine.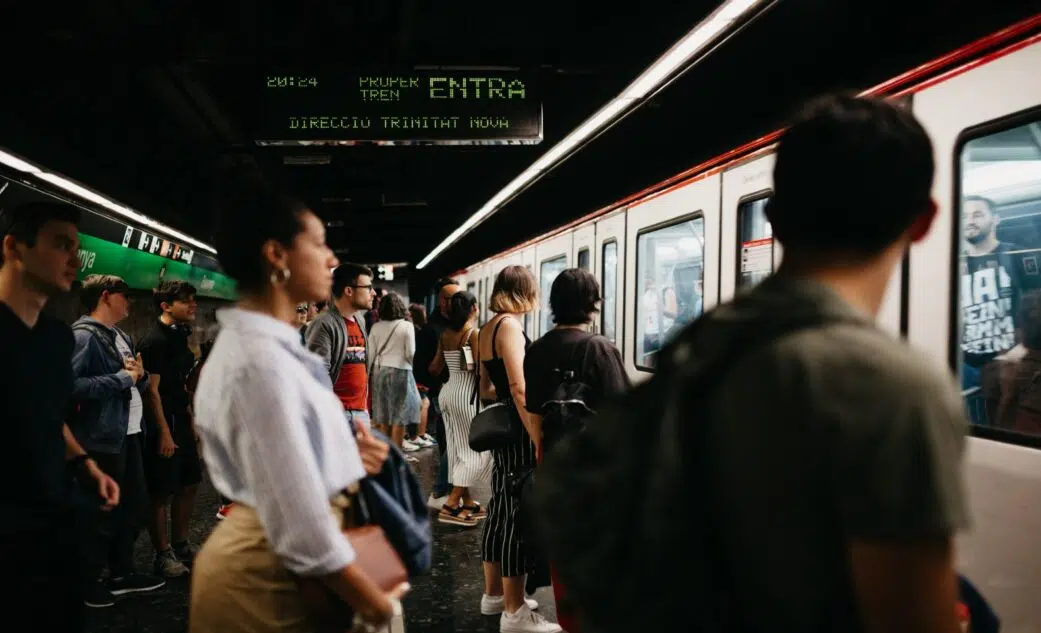 Barcelona Metro FAQs
How much does a Barcelona metro ticket cost?

The cost of a ticket on the Barcelona Metro depends on the number of zones you plan to travel through. For those staying in the city centre, a one-zone trip costs €2.40. Or you can opt for the popular T-Casual card (or T-10), which allows you to make 10 trips for just €11.35.

How do you pay for the metro in Barcelona?

You can either pay €2.40 for a single fare, €11.35 for a T-10 pass. You'll find a ticket machine in each station that accepts payment using cash or a credit/debit card.

Is Barcelona metro 24 hours?

The Barcelona Metro only operates 24 hours a day on Saturdays and public holidays. It typically operates from 5:00 AM to midnight (Mon-Thu) and 5:00 am to 2:00 am (Fri). Just keep in mind that exact times may vary depending on the line and the day of the week.

What is the best Barcelona metro pass?

The best Barcelona metro pass depends on your specific needs and the duration of your stay. The Hola Barcelona Travel Card offers unlimited use over the chosen validity period (2, 3, 4, or 5 consecutive days). While the Barcelona Card adds free entry or discounted admission to many popular attractions on top of the Hola Barcelona card.

What is the T-10 pass on the Barcelona Metro?

The T-casual, or T-10 offers users 10 trips that can be used on the metro, buses, trams, and even on the suburban train lines within Zone 1. It provides flexibility and cost savings compared to purchasing individual single tickets and is perfect for those who don't need unlimited travel.

Is the Barcelona metro easy to use?

Yes, the Barcelona metro is easy to use. It is a well-established and extensive public transportation system that covers a large part of the city and its surrounding areas. It offers clear signage in both Catalan and Spanish, and often in English, offers various ticketing options, and operates with good frequency and reliability.

Can you take the Barcelona metro from the airport?

Yes, the L9 Sud metro line connects terminals T1 and T2 at El Prat Airport with Barcelona's city centre. However, you'll be required to change at Torrassa (L1), Collblanc (L5), or Zona Universitaria (L3) stations, depending on where you're headed. The train operates every 7 minutes and costs €5.15 per ride.
All set for your trip on the Barcelona Metro?
By now, you should be well versed in the ins and outs of the Barcelona public transport system. And hopefully, you've found the Barcelona metro pass that suits your travel needs.
But before you get going, don't forget to hit me up in the comments below if you have any additional questions.
Otherwise, all that's left to do is take the plunge and hop on the Barcelona metro on your way to the city's many attractions.
Safe travels🚊