13 Best Markets in Barcelona + How to Shop Them (2023)
The seemingly infinite number of markets in Barcelona rank amongst the best spots to hit if you want to eat, drink, or even dance among the smells, colours, and chaos of the Catalan capital.
The best markets in Barcelona connect the city's historic past with its cosmopolitan present: offering everything from fine foods and apparel that come accompanied by DJs and local artists that'll be sure to take your breath away.
So, let's take a look at a list of my favourite Barcelona markets in 2023.
Barcelona Market Guide 2023: The Best Markets in Barcelona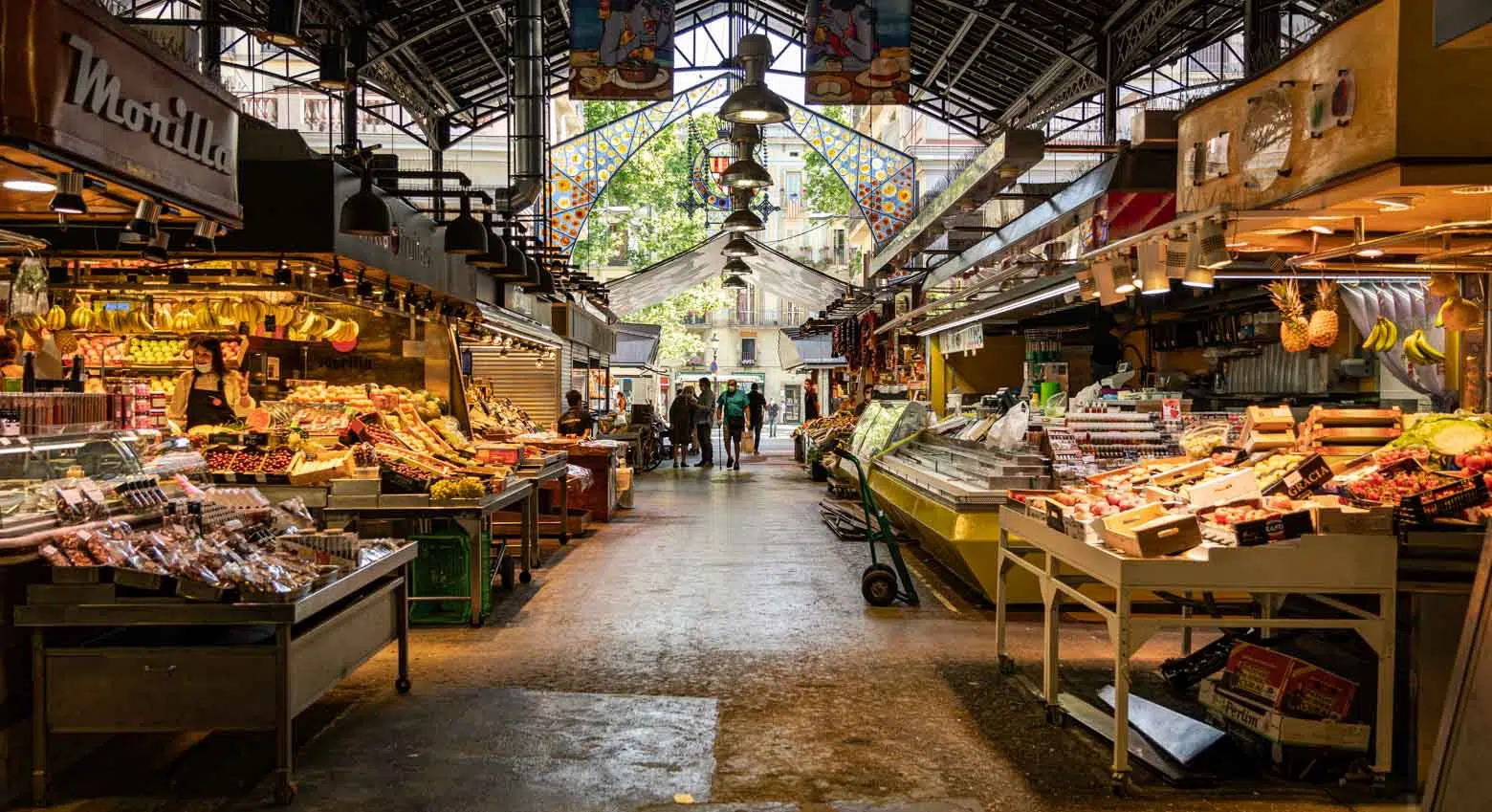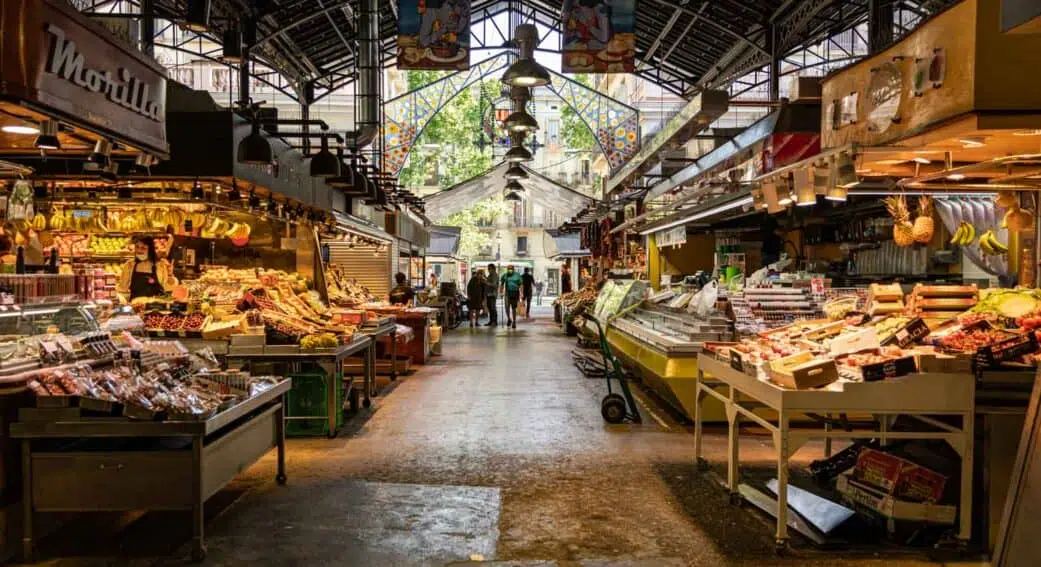 Mercado de la Boqueria
Type: Food | La Rambla 91 | Metro: Liceu (L3) | Area: Raval
The mother of all Barcelona food markets, La Boqueria has been the go-to for shoppers for fresh produce since at least 1840. Even better yet, it's almost impossible to miss it right in the heart of the city's famous pedestrain street Las Ramblas.
The fragrant, bustling food stalls and mini restaurants here offer quality culinary experiences; just be prepared to jockey with tourists taking photos of the fresh fish and sellers trying to wring every last penny out of you.
Get one of the €1.50 fruit smoothies and walk around and soak up the atmosphere.
Hours: Mon-Sat (8:00-20:30).
⚠️ 

Warning

⚠️

: Barcelona's top two attractions must now be booked in advance.
You can book fast track tickets to both individually or get them as part of a discount pass:
You will not be able to book these tickets on site – lock in your tickets ASAP or you could miss out.
Palo Alto Market Fest
Type: Vintage + Food | Carrer dels Pellaires 30 | Metro: Llacuna (L4) | Area: Poble Nou
One of the best markets in Barcelona for creative and artistic merit.
The street market is a great place to soak up the sun and buy some great second-hand and vintage goods, listen to some great live music and DJs, and sample a ton of great food in the many food trucks – with great gluten-free and vegetarian options.
On top of it all, you'll find this to be another go-to for Barcelona artists, designers, and photographers looking to get their works out to the world. If any Barcelona market was made for young people, this is it.
Palo Alto market runs the first weekend of every month except August.
Hours: Sat/Sun (12:00-22:00).
Els Encants Market
Type: Flea Market | Avenida Meridiana 61 | Metro: Glories (L1) | Area: Eixample
The biggest of the flea markets in Barcelona counts more than 500 stalls – and that doesn't even factor in the illegal ones!
The so-called 'oasis of objects' is a mini-city of forgotten toys, gadgets, and just about anything that could be put on sale. Here I found a childhood satisfying Sega Genesis and some games I thought had been forgotten by time.
On the sellers' laid-out white sheets, you'll find everything from hardware to clothes to toys to mobiles. One of the cool things here is that the DIY nature of the market means you can barter – so good luck!
Like most markets in Barcelona, Saturday is by far the best day.
Hours (food): Mon, Wed and Fri–Sat (9:00-21:00).
Hours (clothing, houseware): Mon, Wed, Fri-Sat (10:00- 20:30)
Mercat de Sarrià
Type: Food | Passeig de la Reina Elisenda de Montcada 8 | Metro: Sarrià (L6/L12) | Area: Sarrià
As Barcelona's food scene continues to thrive, markets have become a staple destination for locals and tourists alike. Among them, the Mercat de Sarrià stands out as one of the best in the city making it one of the best places to eat in Barcelona.
Nestled in the charming Sarrià neighborhood outside of the city centre, this market offers an array of fresh produce, seafood, meats, cheeses, and specialty products, all in a vibrant and welcoming atmosphere.
Despite a 2007 refit, the market manages to retain a historic appeal in a charming brick building that dates back well over a century. As such, it has always been an important gathering place for locals in what is now one of the city's most affluent neighbourhoods.
Whether you're looking to stock up on fresh produce, indulge in some seafood or meats, or discover unique specialty products, this market has something for everyone.
Hours: Mon, Wed, Sat (7:30-15:00) Tue, Thu, Fri (7:30-20:00).
8037 Market
Type: Clothes | Corsega 373 | Metro: Verdaguer (L2) | Area: Eixample
The 8037 Market takes traditional clothing markets and flips it on its ear.
Here we're talking about a second-hand market with a concentration not on the utility of cheap clothing but on fashion.
If you're looking for perfectly conserved vintage pieces and a place with a cool, funky, pleasant atmosphere, then this is the one for you.
The schedule is a bit off and on with this one, so it's best to consult the 8037 Market Facebook page.
Hours: one Saturday a month at 13:00.
Sant Antoni Market
Type: Food/Clothes | Comte d'Urgell 1 | Metro: Sant Antoni (L2) | Area: Eixample
Mercat des Sant Antoni is Barcelona's second most popular market, with all the pros of the famous Boqueria without the tourists.
It's impossible to miss this gigantic steel structure built in 1882 – after all, it takes up an entire city block. Look up when you enter, and you'll see the Barcelona coat of arms crowned by a bat.
This eclectic food market with a twist offers the freshest produce, quality meats, snacks, shoes and all types of clothing. Plus, it was re-opened in May 2018 after nearly a decade of renovations, so the facilities are modern and clean.
On the perimeter of Sant Antoni market on Sundays you can find a book, vinyl, stamp, comic, and coin market that'll satisfy your inner nerd. It runs from 9:00 am to 2:00 pm.
Hours: Mon-Sat (8:30-20:30).
Happy Markets
Type: Gifts | Corsega 373| Metro: Verdaguer (L2) | Area: Eixample
This once-a-month market found near the Generator hostel is a great place to buy Barcelona souvenirs.
Here you'll only find a concentration of handmade, artisan products, including jewellery, recycled art, crafts, and much more.
There are also face painters, food trucks, live music, dancing, and Barcelona activities for kids.
Best to consult their schedule on Facebook.
Hours: Saturdays at 13:00
Mercat de Santa Caterina
Type: Food | Francesc Cambó 16 | Metro: Jaume I (L4) | Area: Gothic Quarter
The Mercat de Santa Caterina is Barcelona's most historic market and holds the distinction of being the first to be covered by a roof (1848).
Recent renovations include a colourful, undulating, clamshell-like roof made up of 325,000 ceramic tiles that really stand out when seen from nearby Plaza Catedral.
You'll find more than 100 food stalls selling fresh fruit, vegetables, fish, meat, sweets, baked goods and anything else your stomach could possibly imagine.
There's also a supermarket, a couple of Barcelona's best bars and cafes, and one of Barcelona's best restaurants Cuines Santa Caterina (a type of Asian and Mediterranean fusion).
A nearby bonus? One of my favourite rooftop bars is at the nearby Hotel Grand Central.
Hours: Mon/Wed/Sat (7:30-15:00), Tue/Thu (7:30-15:00), Fri (7:30-20:30).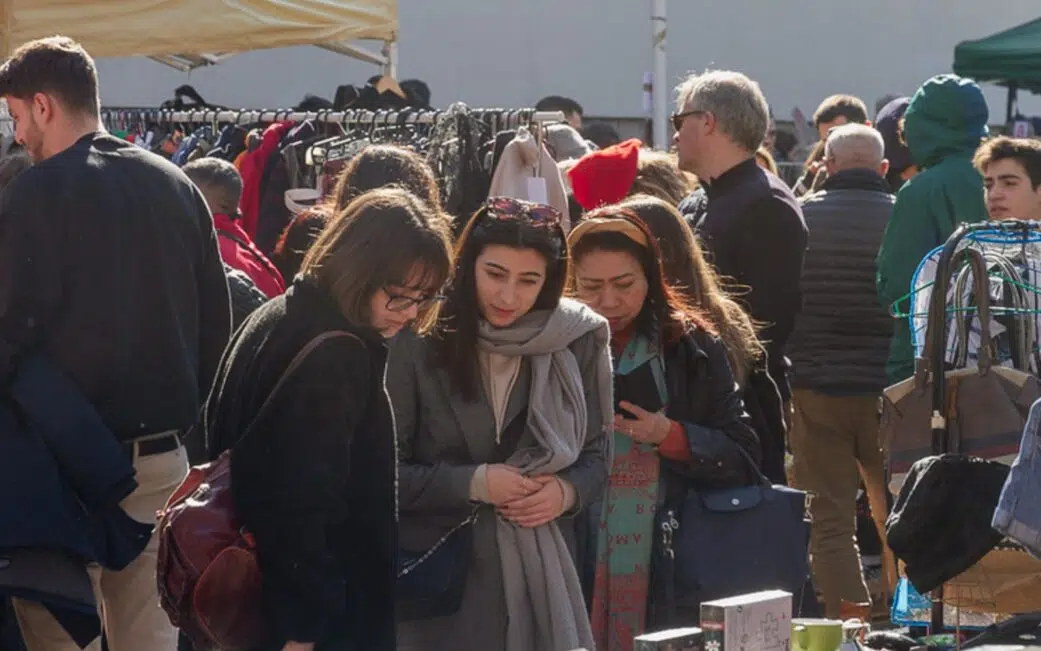 The Barcelona Flea Market
Type: Second Hand | Carrer Pellaires 30 | Metro: Drassanes (L3) | Area: Raval
The Flea Market is the oldest second-hand market in Barcelona, and here you'll find people exchanging all sorts of gadgets, clothes, books, and music.
The philosophy of the organizers here is the very telling "one man's garbage is another man's gold". Though you've probably already planned your Barcelona itinerary and packed light – you may just end up trading that unwanted sweater in your suitcase for a spring jacket!
Hey, one can dream!
The super central location means you can pass by and check it out with minimal time-waste risk.
There are two Barcelona Flea Market runnings per month:
El Fleadonia: Found in Plaça Salvador Segui (metro Liceu) on the first Sunday of the month.
El Flea: Found in Plaça Blanquerna (metro Drassanes) on the second Sunday of the month.
Lost & Found Market
Type: Vintage | Estación de Francia | Metro: Barceloneta (yellow line L4) | Area: Born
This second-hand and vintage market typically runs once every four months.
Again, the organizers here are aiming for a responsible shopping experience where trading is just as common as buying. It's situated right in the classic beach neighbourhood of Barceloneta and is more of a party than a market. Here you'll stock up on books, clothes, music, toys, and more.
The street food and DJs spinning sets have people dancing in the sun – a real modern hippy vibe.
Hours: Mon/Wed/Sat (9:00-20:00).
Mercat de la Concepcio
Type: Food | Carrer d'Aragó 313 | Metro: Girona (L4) | Area: Eixample
The Mercat de la Concepcio is worth a visit for its imposing structure and its great example of steel usage in Barcelona architecture.
This historic market was built in 1888 and refurbished in 1998. It is primarily known as a flower market, so plant lovers will marvel at the selection of rare blooms. A wide variety of seeds are available as well, for those looking to start from scratch.
The market's flower shop (for some late-night Barcelona romance) has been helping Barcelona lovers get out of jams since Gaudi walked the earth. And you can also grab some delicious vegetables, meat and fish while you're there.
Hours: Mon/Sat (8:00-15:00), Tue-Fri (8:00 to 20:00).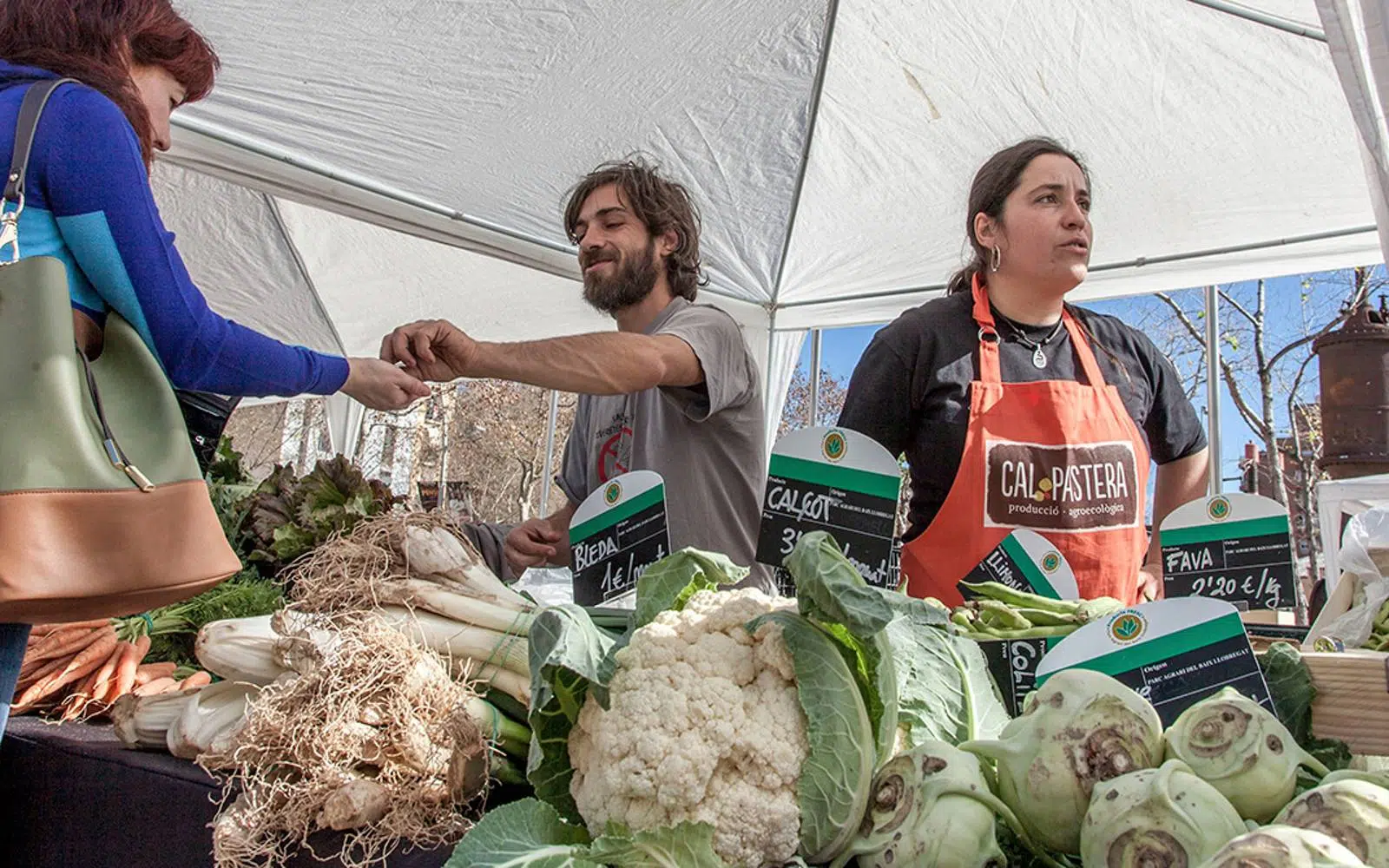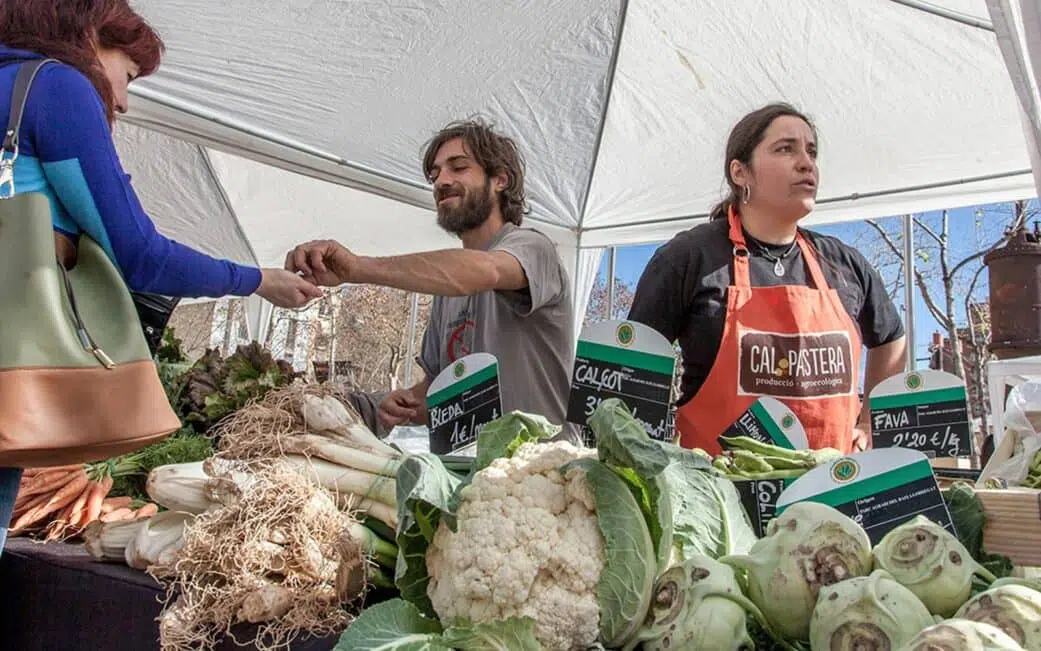 La Tierra Slow Food Market
Type: Food | Avinguda Paral-lel 49 | Metro: Paral-lel (various) | Area: Poble Sec
For foodies, this is a can't-miss market .
Every week you'll find local farmers and a who's who of restaurateurs and business owners setting up shop in the famous Tres Chimeneas Park to offer farm-to-table products.
Not only will you be able to buy local Barcelona delicacies like produce, cheese, sausages, but you'll also be presented with the opportunity to sample some amazing creations at the various food trucks on site.
Hours: Every Saturday from 10:00- 16:00 (Jun-Sep)
Fira de Nautumismo (Stamp and Coin)
Type: Stamp & Coin | Plaza Reial | Metro: Liceu (L3) | Area: Gothic Quarter
This stamp and coin market runs every Sunday from 10:00 to 14:30 in beautiful Plaça Reial near the Rambla.
The geek in you will love sifting through all the old coins, banknotes, stamps, and all sorts of random collections of items like beer mats, cava bottles, and even sugar packs. One might even say this is more of a museum than a market.
At the more than 60 stalls it hasn't been unusual for some items to fetch thousands – bring cash!
Hours: Sun (10:00-14:30).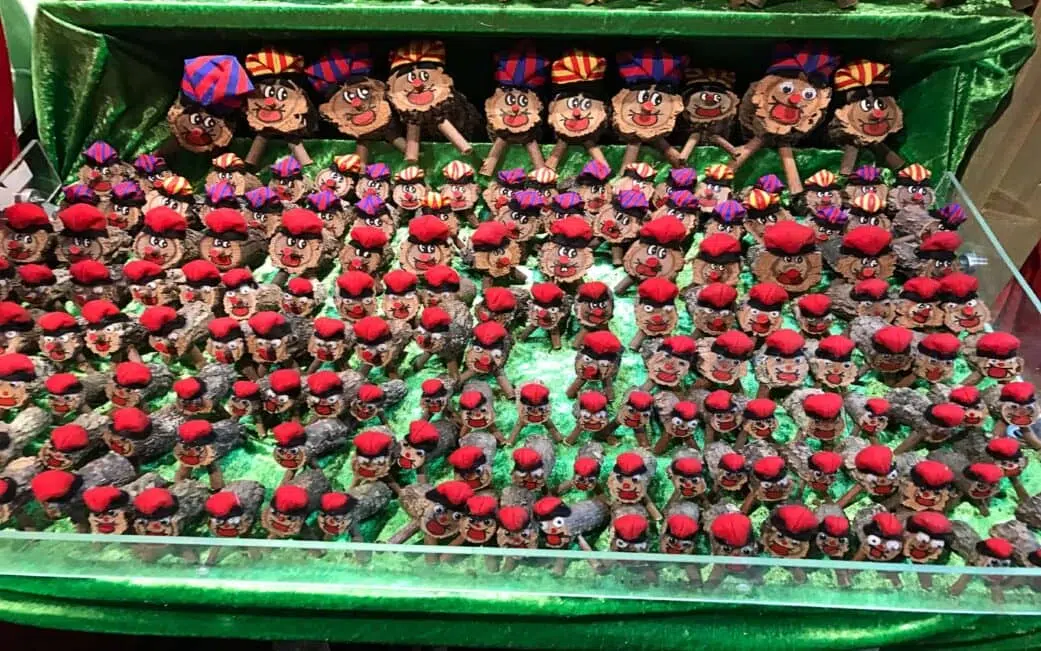 Fira de Santa Llúcia
Type: Christmas Market | Plaça Nova 40 | Metro: Jaume 1 (various) | Area: Gothic Quarter
If you find yourself in Barcelona during the holiday season there is no better way to get a taste of the Catalan Christmas experience than venturing down to the Fira de Santa Llúcia Christmas Market.
Christmas in Barcelona simply isn't complete without a visit to the Gothic Quarter's Plaça Nova, where over 300 stalls compete to hawk holiday items such as wreaths, trees, and ornaments.
However, if you're looking for a souvenir that is unique to the area you might want to pick up your very own Caga Tió decoration. Literally meaning 'poop log', this bizarre Catalan holiday tradition involves a log that poops out presents the next morning after children feed him scraps of food at night!
Located right outside the Cathedral of Barcelona, the market dates back to 1786, making it an integral part of the area's holiday celebrations. So be sure to head down to Plaça Nova and check it out for yourself.
Hours: 7 days per week (10:00-21:00) from late Nov-Dec 23rd.
Markets in Barcelona FAQs
What are the best markets to visit in Barcelona?
Barcelona is a city known for its vibrant markets where you can find anything from fresh produce to unique souvenirs. The most popular market for visitors is without a doubt the La Boqueria Market located on the Rambla.
However, some other popular markets to visit in Barcelona include: Mercat de Santa Caterina, El Encants Market, the Barcelona Flea Market, Sant Antoni Market and the festive Fira de Santa Llúcia Christmas market.
When is the best time to visit Barcelona markets?
The best time to visit most Barcelona markets is early in the morning when the markets are less crowded and the produce is freshest. Some markets, such as La Boqueria, are open every day, while others may have specific opening days and times. Check the market's website or ask a local for the most up-to-date information.
What can I buy in Barcelona markets?
Barcelona markets offer a wide variety of products, from fresh produce, meat and seafood to artisanal crafts, clothing and flowers. Some markets specialize in certain foods or products while others offer virtually anything under the sun.
Visitors looking for items targeted at tourists would be better served sticking to larger markets such as La Boqueria, Sant Antoni and Santa Caterina.
What can I find at La Boqueria in Barcelona?
Located in the heart of Las Ramblas, this market is one of Barcelona's most popular tourist attractions. La Boqueria is primarily a food market, so it is known for its fresh seafood, fruits, and vegetables, as well as its wide selection of cured meats and cheeses spread throughout over 400 stalls. You'll also encounter a number of small restaurants where you can sample many of the local delicacies.
Still Searching for the Best Markets in Barcelona?
Are you an expert on Barcelona markets yet? Maybe it wasn't enough! If you've had any issues or secrets to share about any of the markets, let me know in the comments below.
And as always, should you have any questions about your Barcelona holiday I am always here for custom travel advice – so hit me up.
Enjoy the Barcelona markets🙂