Barcelona Map Trio – Attractions, Neighbourhoods, Metro
Getting yourself a Barcelona map on holiday is as fundamental as the plane ticket.
Whether you're looking for an attraction map, a neighbourhood map with lodging tips, or a metro map to get around I've got them all here in one place to ensure it's smooth sailing all the way.
Ready to go?
Let's impress your friends with your Barcelona street knowledge!
Barcelona Maps
If you're looking for the best map of Barcelona I'm here to give you three!
Still can't find what you're looking for? Get in touch with me below for custom advice.
Barcelona Attractions Map
In my Barcelona tourist attractions map you'll find the city's main sights denoted with yellow stars, secondary attractions with beaches and museums in blue, and bars and restaurants in brown and red respectively.
Also keep an eye out for shopping centres in orange, parks in green, and airport transport locations in purple.
Click on the attraction map buttons for more information + a visitor's guide on each item.
Barcelona Neighbourhood Map
To get your bearings I've created a tourist map of Barcelona neighbourhoods.
This is a great jumping off point for finding a value hotel, Airbnb, apartment, or hostel. I've gone into this in depth in my list of the best areas to stay in Barcelona but first it's best to take a look: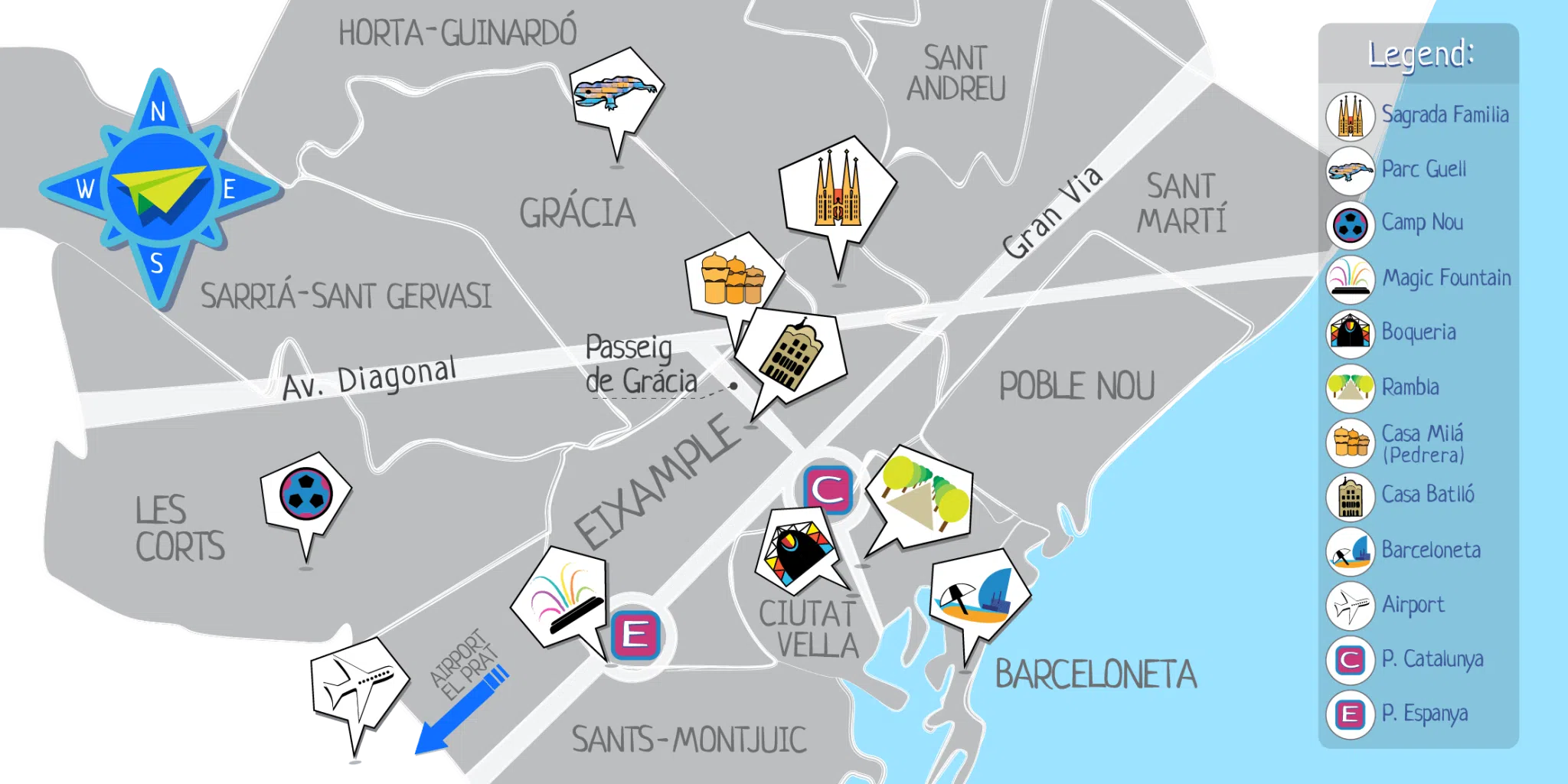 A good rule of thumb when looking for lodging is:
The Ciutat Vella has three parts from left to right: Raval, the Gothic Quarter, and El Born.
Most airport transport like the famous Aerobus takes you to the purple 'C' button at Plaça de Catalunya, the city's most central square. From here you can connect to the metro.
The other neighbourhoods not mentioned have cheaper accommodation as they're less central.
Barcelona Metro Map
With 6 lines connecting the entire city you'll be 20 minutes from anywhere. Almost every major attraction is served by the network save Tibidabo Amusement Park.
Here's a Barcelona metro map given by Transport Metropolitan Barcelona:
[pdf-embedder url="https://www.barcelonahacks.com/wp-content/uploads/2018/04/barcelona-metro-map.pdf"]
Help Me Put You on the Map
If my Barcelona map list still hasn't got you on the right track make sure you write me in the comments below. I'm here for custom advice whether it's finding your way around or anything else on your holiday.
Until next time 🙂