Barcelona in August 2023: Events, Festivals, Activities
There's nothing more natural than visiting Barcelona in August.
It's the month the city's already lively street culture finds another gear, and the beaches really come to life.
Yes, those visiting Barcelona in August 2023 are in for a treat.
But, what to do in Barcelona in August? Let's take a look!
Warning (07/25/23): Some prime Sagrada Familia visit times are already sold out for some dates in August. Make sure you book your tickets ASAP or you could be shut out.
Advice Before Visiting Barcelona in August
Many main attractions sell out weeks in advance, so don't get caught without!
Buy your tickets in advance online – this way, you guarantee your spots and skip the lines.
Also, ensure you get one of the best discount Barcelona transport passes to save money and time.
Another underrated option for Barcelona public transport is to rent a bike and take advantage of the fresh air.
Barcelona in August means businesses go on holiday, so double-check the opening times of your favourite Barcelona shopping spots and top Barcelona restaurants.
If you're visiting Barcelona in August, be careful to avoid pickpockets in top tourist areas – as it's their busiest time of year.
Keep an eye out here because I'll be adding more Barcelona events as they're announced.
🥘 Looking for food + history + wine + fun? Take one of Barcelona's best food tours.
What to Do in Barcelona in August 2023
It's the ideal month to hit Barcelona's best beaches and take that long-awaited Mediterranean swim.
With amazing weather, you'll enjoy longer hours at Barcelona's top attractions, not to mention the walks amongst the Barcelona nature or drinks at Barcelona's top rooftop bars.
Throw in some top-notch music festivals and Barcelona's classic barrio parties, and we're all set.
La Festa Major de Gràcia August 2023
The undisputed main event of things to do in August in Barcelona: La Fiesta de Gracia.
The party finds itself in the Gracia district (metro Fontana, green line L3) and is known as Barcelona's answer to Carnevale.
During the festival, the streets of Gracia are decorated with coloured banners, giant flowers, and papier mâché giants.
Many streets put up their own stages with ear-splitting sound systems, and each has a different genre: electronic, salsa, punk, hip hop and more.
And it's all free! You'll also find great prices on beer, tapas, kebabs and more.
During the festival, bars are traditionally open late, and they set up stands with beer kegs, wine, and sangria.
At the end of the festival, the most well-decorated of the streets (which decorate according to a theme like Japan, the underworld, space etc.) wins a prize. This year there are plans to decorate the main gate into the neighbourhood.
Dates: August 15th – August 21st 2023
🍷 Want to sample the best local wines? Book one of Barcelona's best wine tours right now.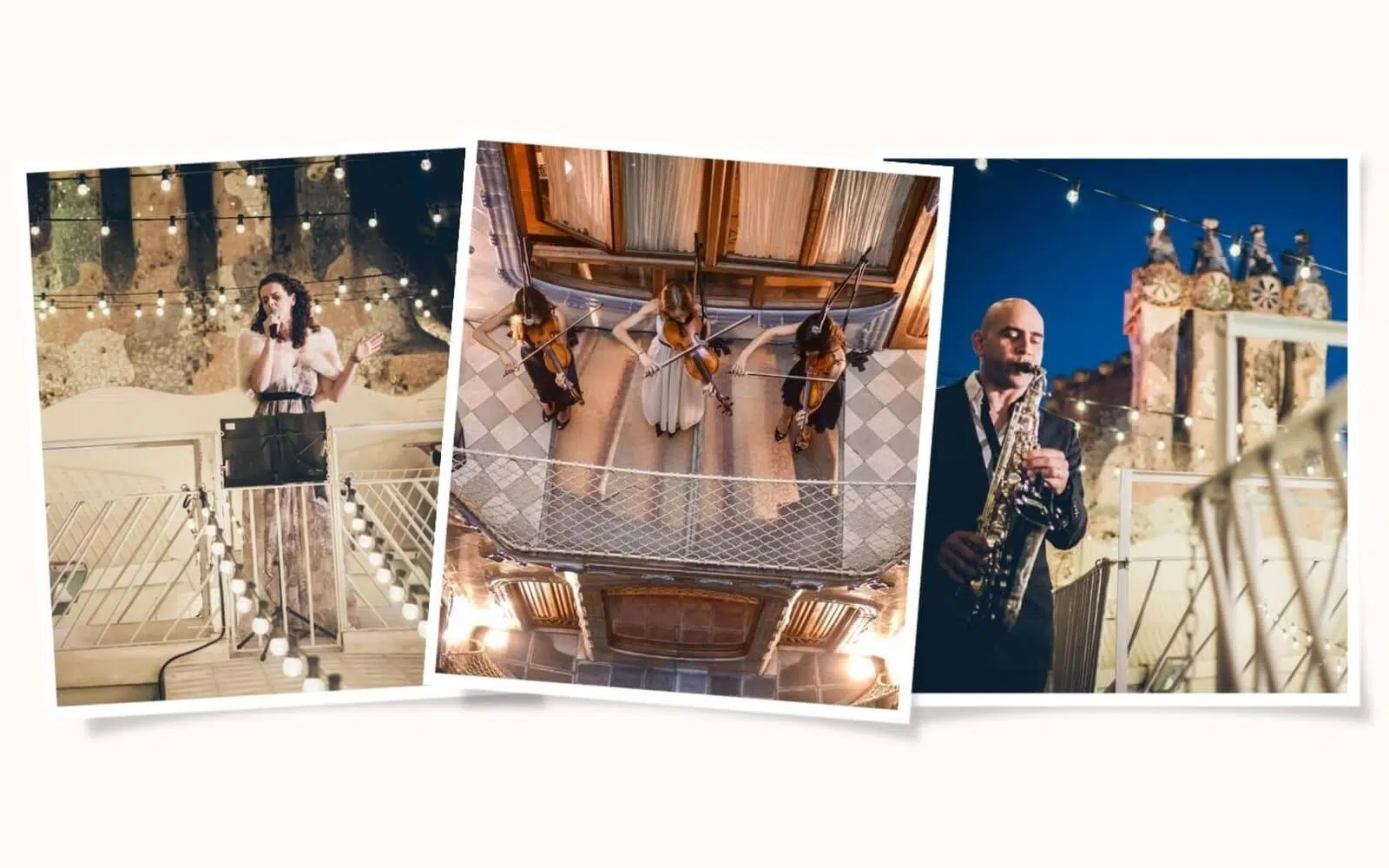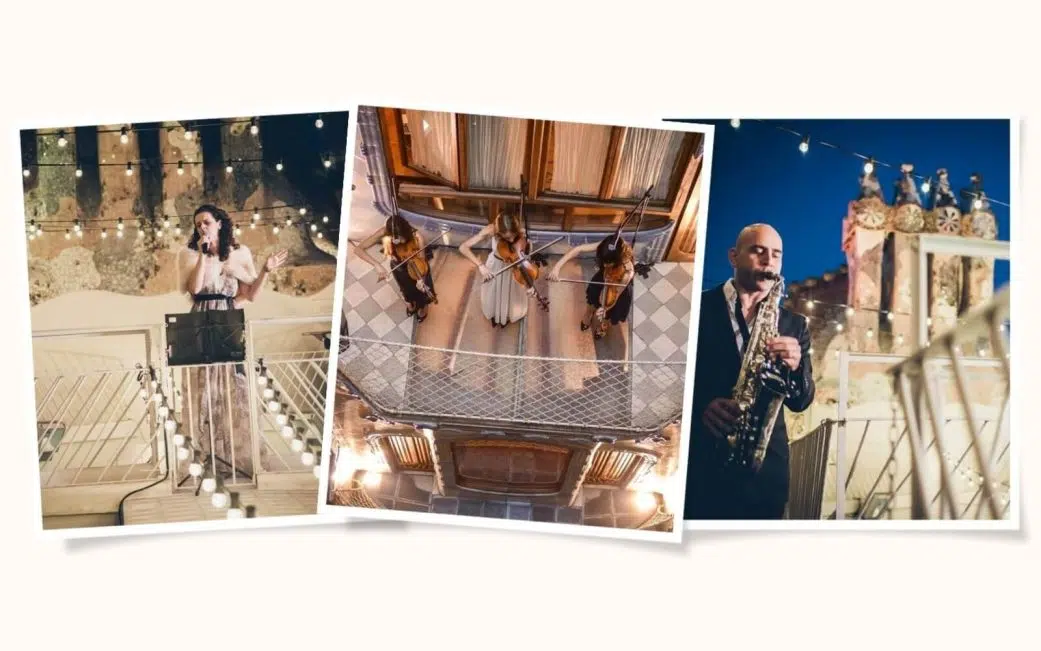 Visiting Top Attractions in August
Casa Batllo Magic Nights
When visiting Barcelona in August, there's no better concert venue than the rooftop at Gaudi's crazy Art Nouveau mansion Casa Batllo.
Not only can you get rare nighttime access to one of the most mind-blowing sights in Barcelona but a concert on the Dragon Roof Terrace as well.
Daily concerts include rock and roll, jazz, opera, soul, flamenco, and more that typically last for 2 hours.
This is one of the best things to do in Barcelona at night, period.
Dates: Daily at 8:00 pm (house visit at 8:00 pm, concert at 9:00 pm)
Price: From €59.00 with audio guide, Gaudi cube, a cava sparkling white wine, and concert.
Children under 7 enter free.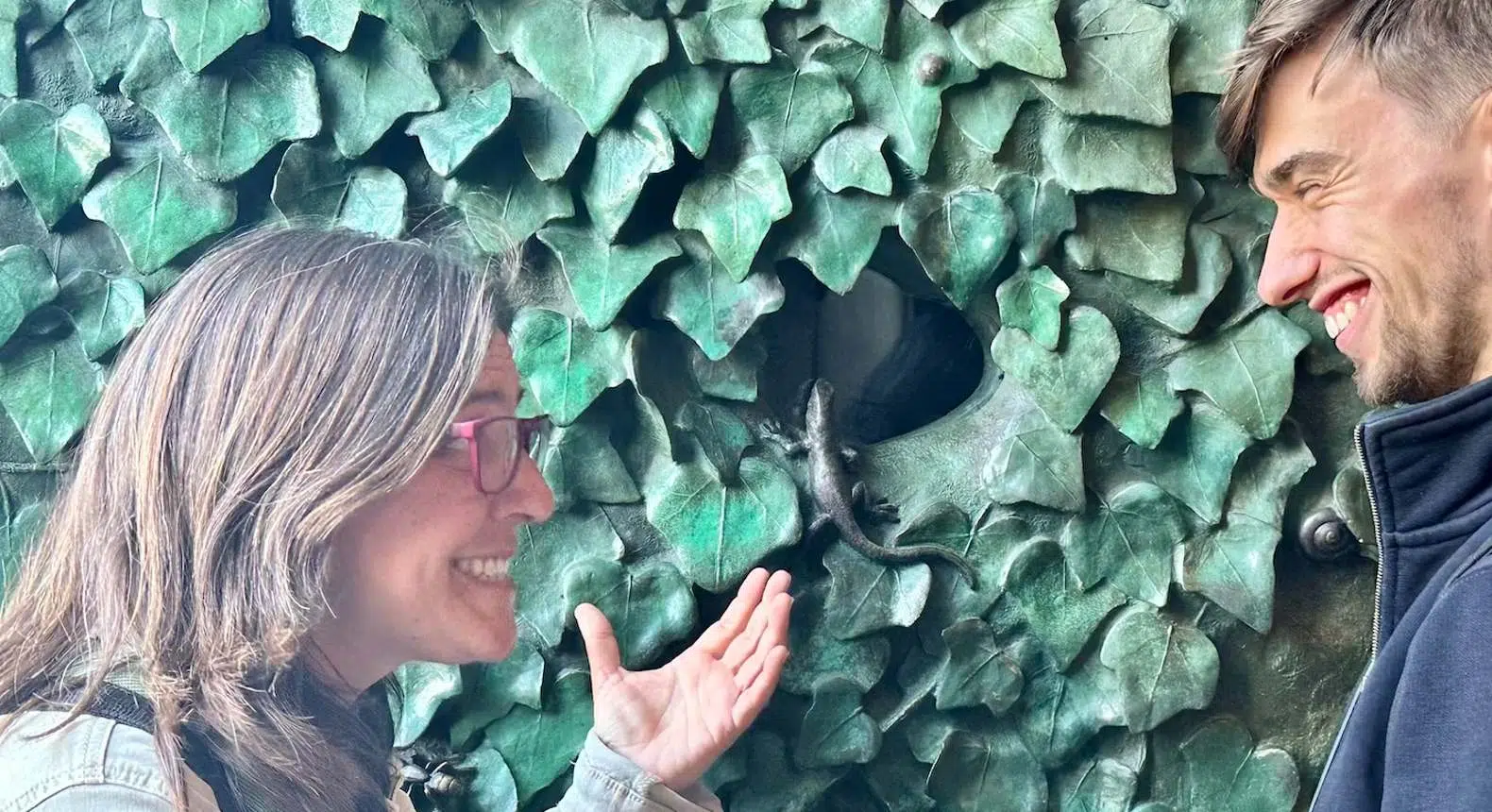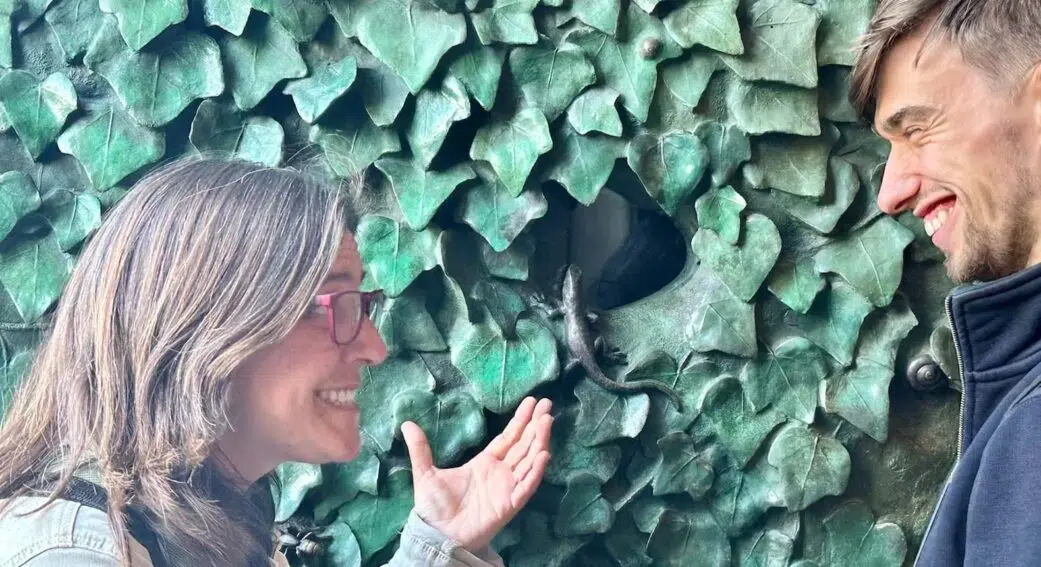 Tours of Sagrada Familia
Taking one of the best tours of Sagrada Familia is probably the most popular activity in Barcelona in August.
Why? Well, first of all it's because the dates always sell out way in advance.
Secondly, it's the best way to unlock all the symbolism of the world's most unique church.
If you had to put your money down for just one big Barcelona attraction it should be Sagrada Familia, so why not go the whole way?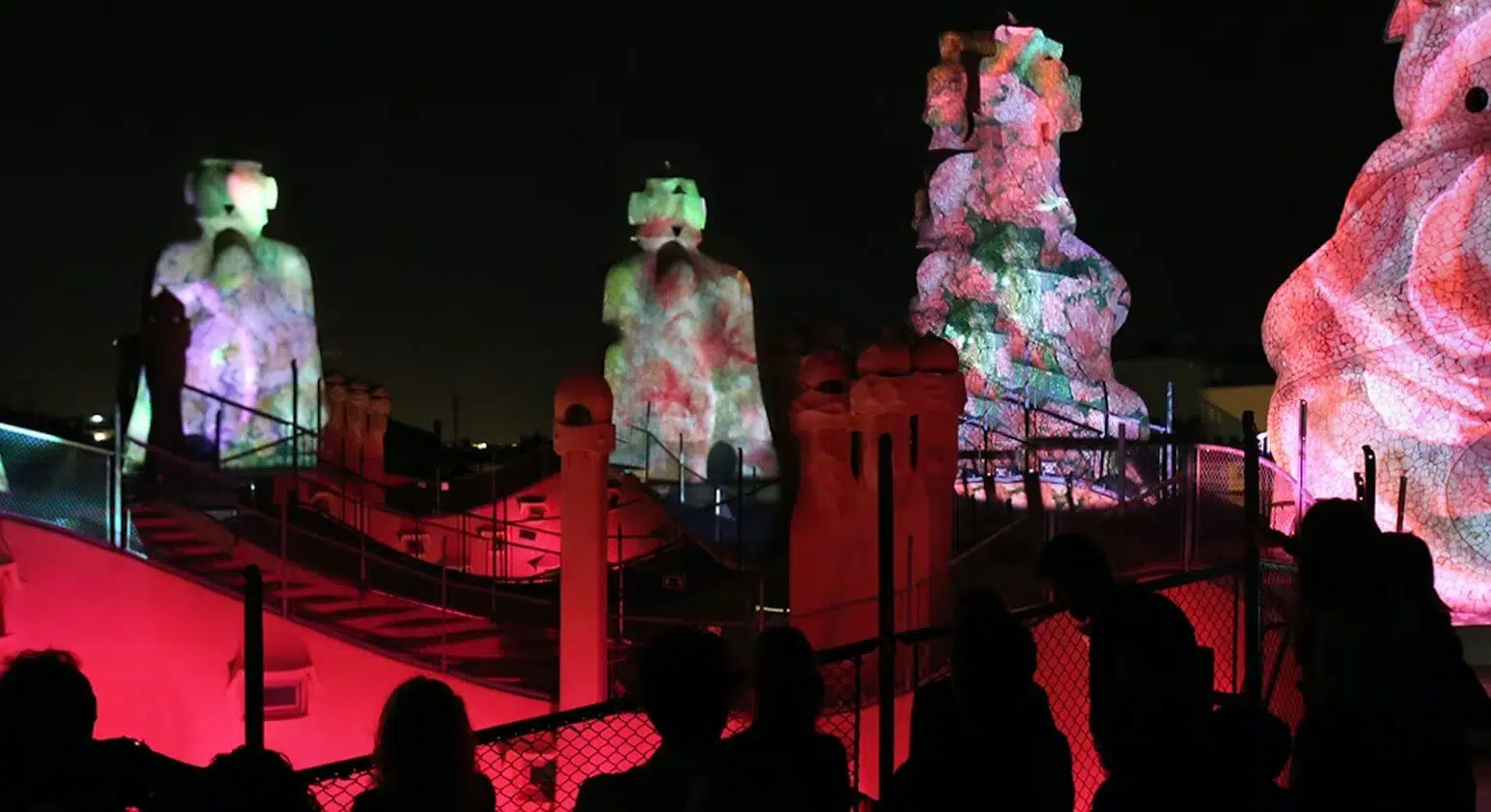 Night Visit to Casa Mila (La Pedrera)
A nighttime visit to Casa Milà, on one of the world's most famous rooftops.
The ticket for the evening tour costs 38€. The ticket includes a visit to the Gaudí space, a concert, and a drink.
This visit has numerous advantages: experiencing significantly smaller crowds, having a personal guide who is a knowledgeable architect, and enjoying an eerie, atypical nighttime silence.
Dates: Nightly from 8:40 pm (entrances every 20 minutes)
Price: From €38.00.
🧑‍🎨 Want more of Gaudi? Unlock his masterpieces with the top Gaudi tours in Barcelona.
Club Nights in Barcelona in August 2023
Big nights at the best Barcelona clubs are announced little by little.
Don't worry, the schedule will fill up quickly, and I will update the article promptly. For now, these are the most important events (get your tickets online to avoid missing out!):
Don't see anything for your dates in August? You can't go wrong with a night at Input, Sala Apolo, Pacha (Sundays), Los Enfants, or Razzmatazz.
And you can always check out August Barcelona concert dates on Songkick as well.
Barcelona August Festivals 2023
Brunch Electronik Festival
The legendary outdoor techno party takes place in the heart of August on Montjuic Hill and Parc del Fórum.
Every weekend you'll find this daytime dance doozy with a lineup of spectacular international DJs.
You'll find a great beer garden and some nice cool-off spots spraying you with water. Then add some food trucks and even a playground for children (who says parents can't party?), and you're set.
The August 2023 lineup includes highlights like Âme b2b Dixon, ANOTR, Carl Cox, DJ Holographic and Benji B.
Starting in 2023, there are no walkup tickets, so you'll need to buy them online in a 3-day pass format.
Dates: August 6-11-12-13-20
Prices: €99.00 (first release) – €250.00 (VIP) for 3-day passes
Metro: Parallel (purple line L2, green line L3) then change for Montjuic Funicular/ El Maresme | Forum (L4)
For more information on Brunch Electronik, consult the official website.
Circuit Festival Barcelona
Many members of the LGTBQ+ community have come to regard Barcelona's Circuit Festival as the most important international gay event on earth.
The week-long event takes place at numerous venues across the city in order to capture the essence of everything that Barcelona has to offer in August.
You'll find everything from massive beach-side pool parties to all-night ragers that take advantage of Barcelona's nightlife.
The festival was founded to help LGTBQ+ travellers discover incredible music, meet new friends from all over the globe and party the summer away on Barcelona's incredible urban beaches.
Dates: August 5-13 2023
Prices: €30.00 (single events) – €360.00-€400.00 (all-access passes).
Festival Mas i Mas
This massive festival is comprised of over 200 concerts spanning six classic Barcelona venues. So, needless to say, it lasts throughout the entire month.
Whether you're catching Barcelona's best flamenco shows at Tarantos or some classical music at the Palau de la Musica, there's no better way to escape the summer heat than live music.
Check out a ton of local and international artists performing jazz, flamenco, hip-hop, gospel, funk, rock, and more.
Prices and venues vary but check out the here.
Cap Roig Festival
A concert series in a spectacular natural setting overlooking the Mediterranean Sea.
Head up the coast an hour or so to the Costa Brava and see one of the Med's best botanical gardens before checking out great international artists across many genres.
Dates: July 14 – August 19
Prices: €20.00 – €375.00, depending on the artist.
For more information on the Cap Roig festival, click here.
DGTL Festival
Update (07-19-23): After many successful years, DGTL is not running in Barcelona this year. I will up date info on next year's concert as it comes in.
With the success of years past, we knew the Spanish version of this Dutch techno festival would be back.
DGTL dazzles with its modern fire-spitting machines and interactive, eco-friendly visual art installations. The festival maintains its vintage warehouse feel and gritty sounds that contrast the crashing waves on the beach at Barcelona's famous Parc del Fòrum.
Last year fans were treated to a mixed lineup of underground and popular DJs like Maceo Plex, John Talabot, Nina Kravitz, Agoria, and more.
The top names for 2022 were Ben Klock, Dax J, Cora Novoa, Colyn, Dj Boring, Farrago, Evan Baggs, Hunee, Mama Snake, I Hate Models.
Artists for the 2023 version have yet to be announced
Dates: TBD
Prices: €39.50 (one-day early bird) – €90.00 (weekend passes).
There's also a €100.00+ ticket with a backstage experience option.
Metro: El Maresme-Forum (yellow line L4).
For more information, consult the official DGTL website.
Barcelona Festes Majores in August 2023
In Barcelona in August, you'll find a different neighbourhood party (Festa Major) practically every week.
A "Festa Major" is the most important or principal celebration or festival held once a year in a neighborhood, town, village, or city.
Traditionally, it commemorates a significant event from its history or tradition. This celebration can also be a patronal feast, dedicated to honouring a patron saint.
La Festa Major de Sants
This neighbourhood festival honours Saint Bartomeu, the patron saint of Sants, who was martyred and even flayed (skinned) for his beliefs – morbidly becoming a major figure to all the leather-related professionals that inhabited the area.
Again, you'll find no less than 22 streets in the neighbourhood decorated with particular themes. A recent winner of the competition was the King Kong/New York-themed street – quite the sight!
The classic papier mâché giants, the fire-spitting dragons of the correfoc ('fire run'), and the human tower building are just some of the very Catalan highlights of this barrio party.
Also not to miss are the fireworks at the closing of the festival.
To get to the festival, get off at Sants Estaciò metro (green line L3 or blue line L5).
Dates: August 19 to August 27
Please check the Festa Major de Sants website for more information.
La Festa Major del Barrio Gotico
If you're looking for something authentic and traditional, then look no further than the city's oldest barrio party.
Held in honour of Saint Roc, who, according to legend, caught the plague upon a visit to the city but was nursed back to health by a local baker's dog and protected the city against a later outbreak.
It's like stepping into a time machine as the costumes, songs, and dances are pretty much the same as they were for the first edition in 1589. In the streets and squares of the Gothic Quarter, you'll find performances of the Sardana (a traditional Catalan dance) and parades of papier mâché giants.
The highlight here is the chaotic correfoc, a sort of parade with adults and children dressed up as devils and lighting off firecrackers while a series of fire-spitting dragons fire off sparklers and fireworks in all directions – you may get burned!
Make sure you try the official food of the festival: panellets (a traditional marzipan dessert with pine nuts). Accompany them with a glass of sweet wine, and you're set!
Grab them at Dolceria De La Colmena (Placa de l'Angel 12).
Dates: August 15 – 20
For information on all the Festa Majores, check out this website.
Other Top Things to Do in Barcelona in August 2023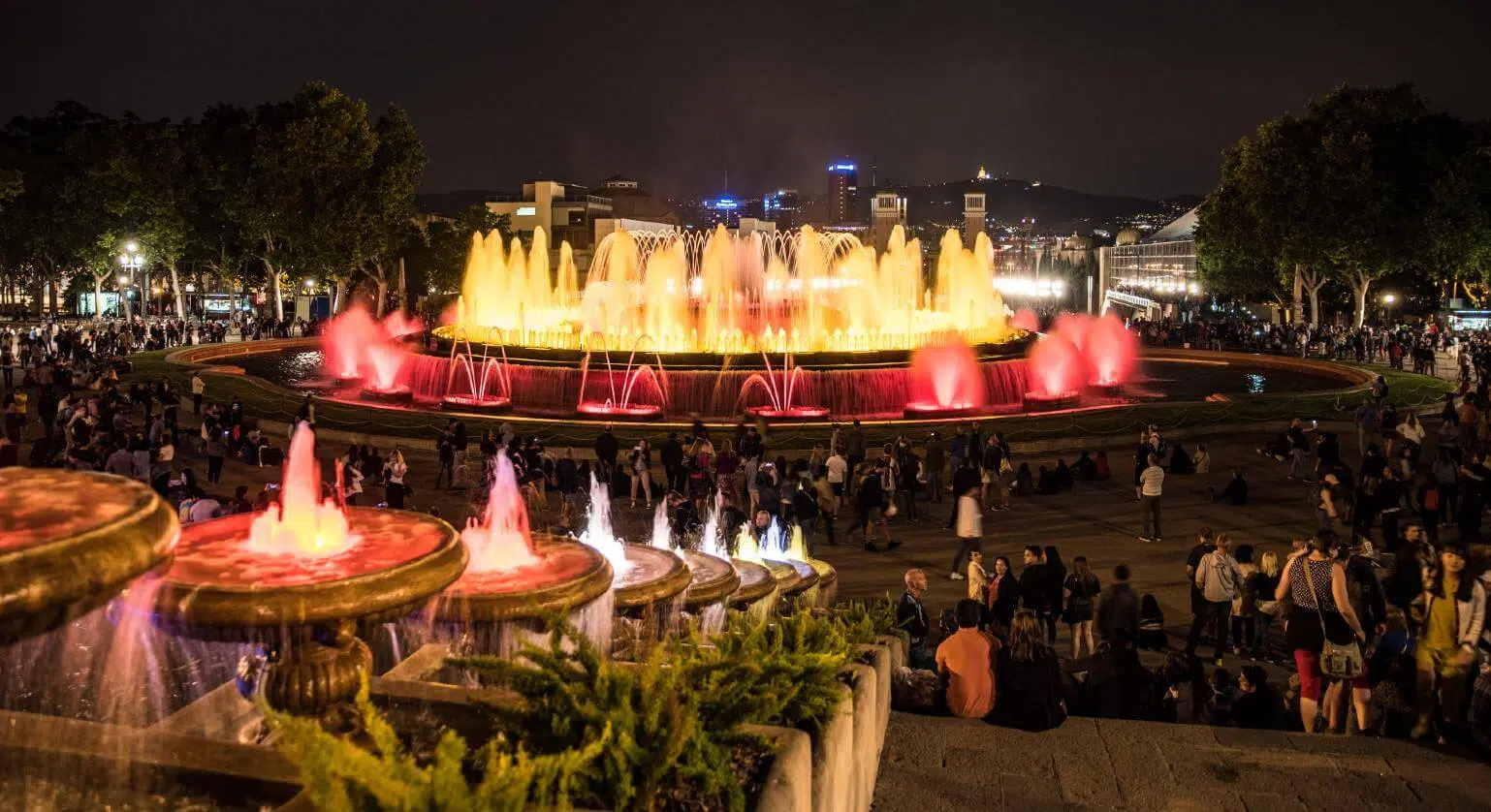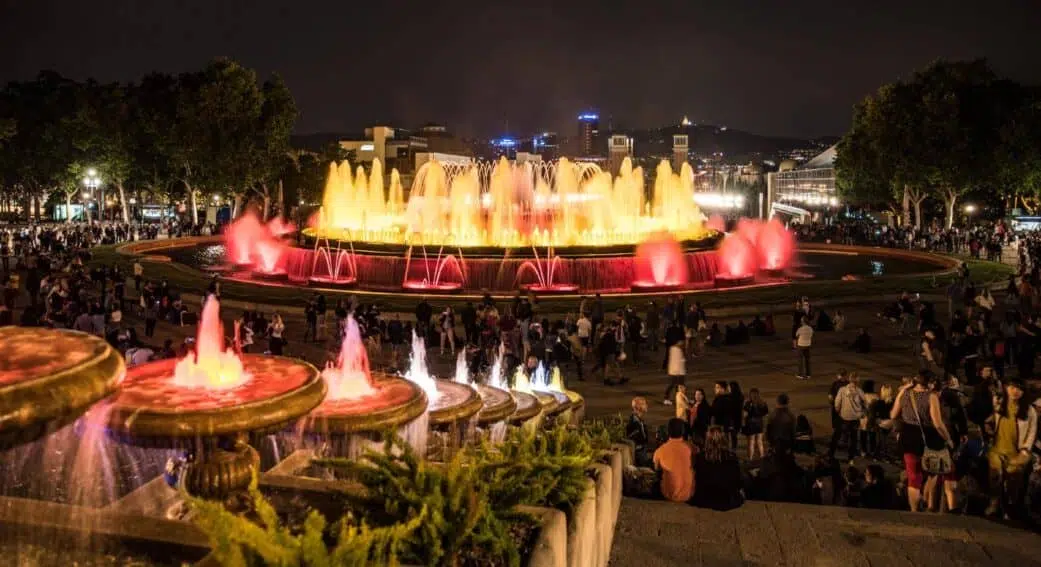 The Magic Fountain
Update (07-19-23): In an effort to save water the Magic Fountain has been temporarily closed by the city of Barcelona. No word on any re-opening yet, but I'll have this updated as soon as I know.
It's an emblem of the city and a staple in any summer month.
Especially in August, though, you'll find Barcelona's Magic Fountain the optimal place to cool off.
Right by Plaça Espanya, you'll find this magical fountain show set to music that's an explosion of colours and sounds – and refreshing water!
Shows run from Wednesday to Sunday from 21:30 to 22:30 throughout the month.
Related: How Many Days Should I Stay in Barcelona?
Take a Barcelona Bike Tour
There is no better way to enjoy the August sun than on one of Barcelona's best bike tours.
In this case, you'll be able to make it educational and check out many of Barcelona's top attractions at the same time. Sounds like a win, no?
My favourite is the Barcelona and Gaudi Highlights eBike Tour. You'll be joining a guide on a 3-hr journey through the Gothic Quarter, Park Ciutadella, and Eixample to discover the traces and influence of the Master himself.
It all culminates with a quick stop outside Gaudí's most awe-inspiring masterpiece, the Sagrada Família. You'll also pass by two iconic buildings that define Barcelona's skyline: Casa Milá and Casa Batlló. So get ready for an unforgettable experience filled with excitement, breathtaking sights, and intriguing stories.
Related: Best Guided Tours of Barcelona
The World of Banksy Exhibition
After its huge success in Paris, the World of Banksy exhibition couldn't help but land here in Barcelona at the Espacio Trafalgar near Urquinaona metro station (yellow line L4).
Expect this immersive experience to really bring to life the satirically touching works of this Bristol street artist, who is arguably the most well-known in the world.
Price: €12.80
You can read reviews of the show and make your booking using the button below.
The Joan Gamper Cup
Football/soccer lovers will be happy that the sport comes back with a vengeance in August in Barcelona.
You'll want to grab FC Barçelona tickets for their most important pre-season matches of the year. This one-off match is played in honour of its founder and former president, Hans Gamper. Barcelona squares off against an invited team from another country. Recent guests include Juventus, Boca Juniors, and Arsenal.
The 2023 date is August 6th against Tottenham Hotspur.
You may also want to take a tour of Camp Nou stadium to see some of the best sports memorabilia around, including Champions League trophies, Messi's Golden Boots and more.
Gran Gala Flamenco
The Gran Gala Flamenco is known to be Barcelona's most important Flamenco show. The event transports you to a world of rhythmic claps, beautiful dresses, and mesmerizing costumes.
It's been captivating audiences for nearly two decades, and it's not hard to see why! Toss in the stunning location, the grand Palau de la Música – and you've got an event dreams are made of.
If you're looking for a show that's packed with energy and emotion, Gran Gala Flamenco is the perfect choice for you. You'll be swept away by the stunning performances that showcase the best of flamenco.
The show runs periodically throughout the month – it's one of the best things to do in Barcelona when it rains.
Dates: August 1, 6, 8, 10, 12, 17, 20, 22, 26
Open-Air Cinema at Sala Montjuïc
Fans of the silver screen and classic movies won't go wrong here – watching atop Barcelona's scenic Montjuic Hill.
Projected onto the walls of Montjuic Castle is this outdoor cinema series, complete with short films, concerts and more. Bring your own beer and snacks, and cozy up!
August 2023 films include Fargo (August 2nd) and a surprise film (August 4th)
Prices: €7.50 (advance) or €10.50 with a lounger.
Each show begins at 20:45 with a concert (movies start at 22:00).
More info here.
Related: Is Barcelona Worth Visiting?
Visiting Barcelona in August FAQ
What happens in Barcelona in August?

In general, Barcelona August means the city flooding with tourists and many locals getting out of town to go on holiday. You'll find a ton of local barrio festivals like the Festa Major de Gracia (August 15-20), a lot of special events at major attractions (Magic Nights at Casa Batllo), and a long list of concerts.

What to do in Barcelona in August?

The top things to do in Barcelona in August are:

Going to the beach
Wandering around the Barceloneta seaside neighbourhood
Taking in rooftop events at Casa Mila and Casa Batllo
Going on e-bike tours of the city
Attending some of the city's many outdoor events like Outdoor Cinema and the many Festes Majores

What to pack for Barcelona in August?

Visitors to Barcelona in August should pack light: t-shirts, shorts, flip-flops, and a light jacket in case of rain. Sunglasses and sunscreen are a must.

A filled water bottle can also be a lifesaver.

How busy is Barcelona in August?

Barcelona is extremely crowded in August. Consider that there are over 3.0 million overnight stays in the city during August, so it's about as busy as the tourist season gets.

How hot is Barcelona in August?

August has an average temperature of 28 °C (82 °F), with lows dropping down to 19°C (67°F) at the end of the month. Expect nine hours of daily sunshine and about five days of rainfall.

People who are sensitive to heat may want to exercise caution as heat waves are common. The city can become a sauna with temperatures reaching 35°C (95°F).
Still Looking to Visit Barcelona in August?
If, for whatever reason, you still feel you haven't got enough things to do in Barcelona in August, then you know what to do: harass me mercilessly.
Any questions you have about your Barcelona holiday will be answered promptly and in earnest.
Also, any comments you have would be greatly appreciated.
Enjoy visiting Barcelona in August😎