How to Get from Barcelona Airport to City Centre Fast & Cheap
The Barcelona airport to city centre trip doesn't have to be stressful, as long as you're landing with the knowledge I'm about to share here.
With five ways of getting from Barcelona airport to the city you're going to have a lot of choice.
Let's find out the best way to get to the city centre for you and your budget.
How to Get From Barcelona Airport to City Centre
First off let's get oriented.
There are three Barcelona airports but today we're talking about the biggest (44 million passengers) and closest (12 km from the city centre): El Prat (BCN).
For the other two options please check out my pages on Girona Airport or Reus Airport.
⚠️ 

Warning

⚠️

: Barcelona's top two attractions must now be booked in advance.
You can book fast track tickets to both individually or get them as part of a discount pass:
You will not be able to book these tickets on site – lock in your tickets ASAP or you could miss out.
Barcelona Airport Terminals
It's very important to know that Barcelona airport is made up of two terminals.
Terminal 1 handles the majority of traffic including overseas fights.
Terminal 2 handles mostly low-cost carriers from Europe.
Before choosing the best Barcelona airport transport make sure you've double checked the terminal – if you arrive at the wrong one you're looking at a 20 minute airport shuttle (minimum) to get to the other.
Barcelona Airport to City Centre Options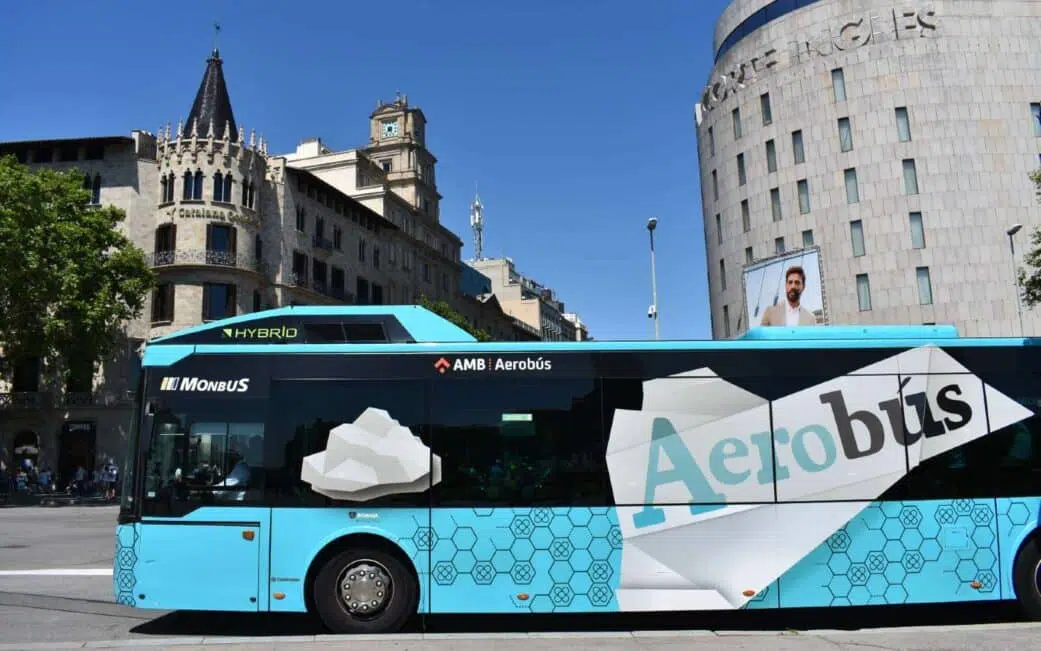 The Aerobus
I call this the fast airport bus because it takes only 35 minutes (the city bus on the other hand takes about an hour)
In my opinion, it's the best way to get from Barcelona airport to the city because it runs:
24 hours a day, 365 days a year
Every seven minutes between 5:07 am and 12:34 am
Every 20 minutes between 12:54 am and 4.54 am
From both Terminal 1 and Terminal 2
It's impossible to miss – just walk outside either terminal and see the classic blue Aerobus logo.
Aerobus tickets are €9.75 one way and kids under four go free.
Many tourists have spoken to me about the advantages of Aerobus like:
Tickets are bought directly online – just make your purchase then show a printed or mobile copy aboard the bus.
You can buy your advance Aerbosu tickets online and support us and our work using the button below.
Aerobus stops:
El Prat Airport
Gran Via (at Calle Urgell, inbound)
Carrer Sepulveda (at Calle Urgell, outbound)
Plaça Universitat (only inbound)
Plaça Catalunya (the most central point in Barcelona)
Add an Unlimited Transport Pass on Top
Looking to combine the Aerobus with a discount all-in-one Barcelona transport pass?
Thanks to Tiqets you now have the option to package a one way or return ticket on the Aerobus with the unlimited transport Hola Barcelona Card – you can book the Barcelona Transport Pass clicking the button below: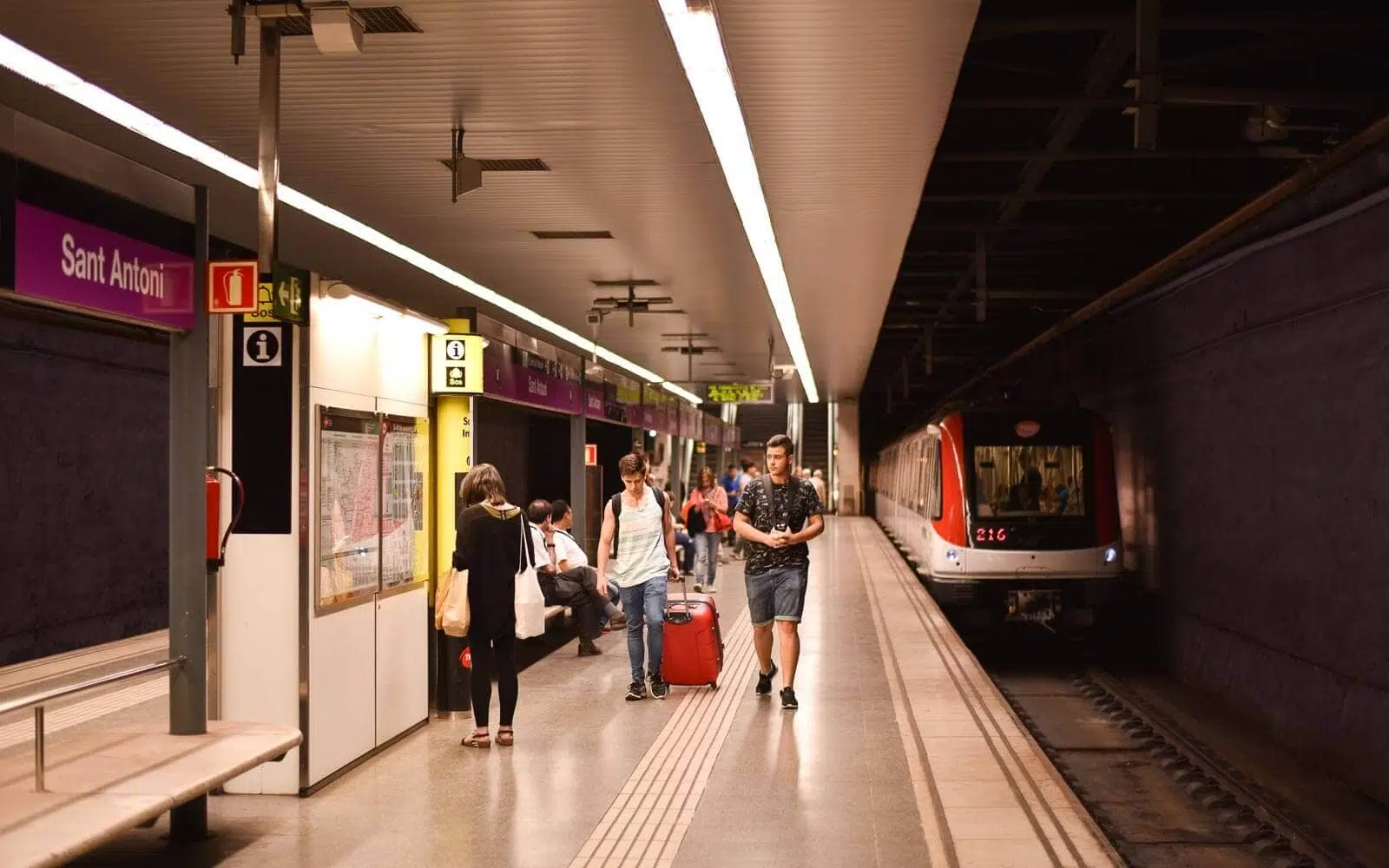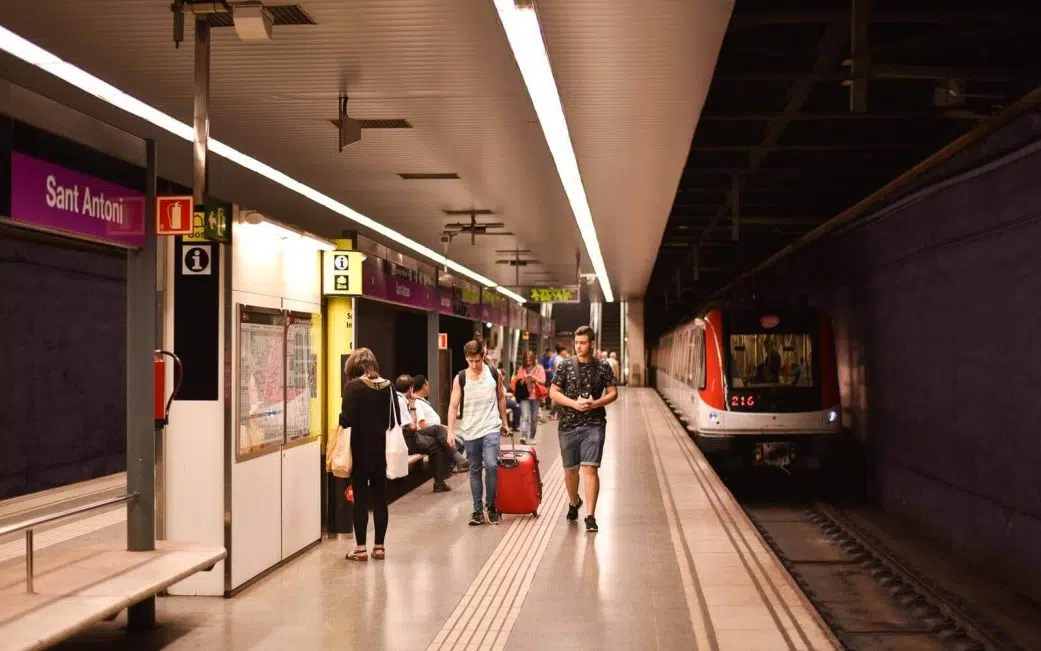 Metro to Barcelona Airport
Is there a metro from Barcelona airport to the city? From February 2016 onward, yes.
The Barcelona metro connects Barcelona with El Prat via line L9S.
Careful though: it doesn't stop anywhere in the city centre – for this reason it's probably better for residents than for tourists. It also makes quite a few stops and as a result isn't the swiftest of options.
Another downside: unlike regular metro fares a single ticket costs €5.15 and is pretty expensive – you're better off ponying up a few extra euro for the Aerobus.
When Should you take the Metro from Barcelona airport?
If you're staying near a metro stop on the green line between Zona Universitaria and Parallel.
If you're staying near the red line between Torrassa and Glories.
If you're staying anywhere along the orange line.
Where do I get the Metro from Barcelona airport?
From Terminal 1 it's basically right outside the arrivals.
At Terminal 2 you'll need to walk about ten minutes outside the arrivals and you'll find it near the overland train service. In both cases just follow the red M sign.
Important: if you buy a transport discount card directly at the airport it'll cost you more than doing it online.
Related: Barcelona metro map
Related: How Many Days Should I Stay in Barcelona?
Airport Bus to City Centre (Bus 46)
When thinking of how to get from the airport to the city this is the cheapest way – but the benefits basically stop there.
Bus number 46 during the day and N16, N17, and N18 at night will get you there, but all run less frequently than Aerobus at every 20 minutes and take longer to get to the city – a 60 minute trip.
You'll find the Barcelona airport bus right outside the terminals. Just follow the signs.
The price is just €2.40 one way (€4.80 return).
Careful: You may end up having to take additional transport to get to your destination as the bus only arrives to Plaça Espanya (from here you can take the metro on to more central areas).
I only recommend taking the bus to the city centre under the following circumstances:
You don't feel like spending the extra €5.00 on the Aerobus.
You don't mind taking 30-60 more minutes for the trip.
You have no problem standing in a crowded bus.
Your hotel, Airbnb, or holiday apartments are in the city's southwest (there are many stops).
This bus runs from 4:50 am to 11:50 pm to the airport and from 5:30 am to 11:50 pm to the city centre.
Remember: if you're staying in classic city centre neighbourhoods like El Born, El Gotico, or Gracia you'll certainly need another form of transport.
CAREFUL: if you're taking the airport bus using the discount cards mentioned you'll need to buy them in advance online as they aren't sold on board.
Trains from Barcelona Airport
This option takes the same time as the Aerobus but departs every 30 minutes.
It also has a more limited running time with the first train leaving for the city centre at 5:42 and the last at 23:38.
Trains run every half hour and the journey takes 30-40 minutes.
A single ticket costs €4.50.
I'd recommend taking the Barcelona airport train under the following circumstances:
Your flight arrives in Terminal 2 before 10:30 pm.
You've got accommodation near Sants Estacio, Passeig de Gracia, or El Clot-Arago.
You're in no rush and can afford waiting 30 minutes after getting bags etc.
You don't mind massive crowds.
Careful: If you arrive in Terminal 1 you'll have to wait for a free shuttle to Terminal 2 before taking the train. They run every 5 minutes but this will easily add another 20 minutes to your trip.
The first return train leaves the city centre at Passeig de Gracia at 5:42 and the last at 23:07. For either direction please check the train times on the official Spanish railways website.
Advice: walk about 20 metres up the platform to the part that's not covered to have a better chance at getting a seat.
Another tip: if you're equidistant to both Sants Estació and Passeig de Gracia make sure you grab the Barcelona airport train at Passeig de Gracia.
Not only can you do some last minute photography at Casa Batllo and La Pedrera, but since it's one stop ahead on the line your chances of getting a seat at peak times increase dramatically.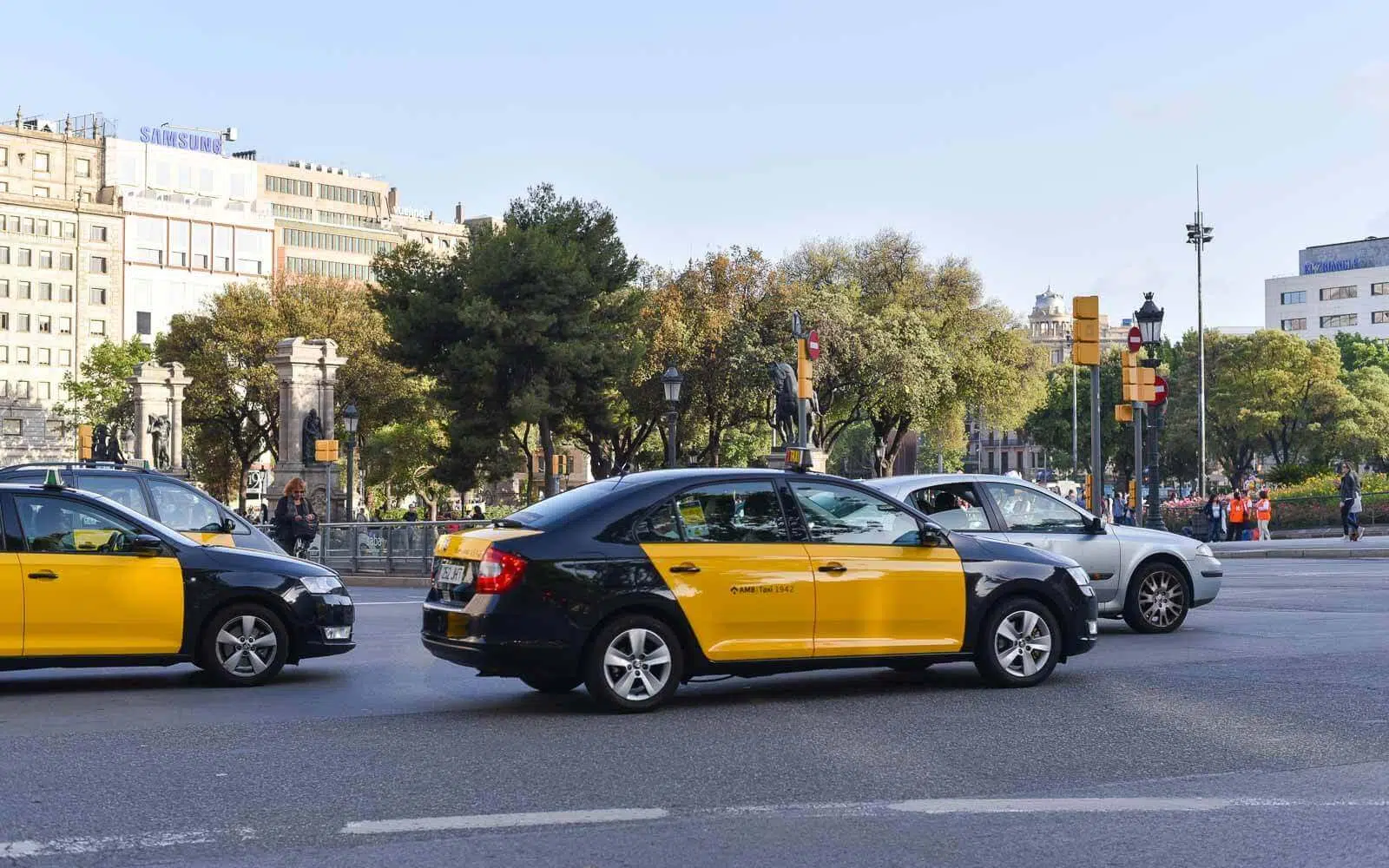 Barcelona Airport to City Centre by Taxi

The fastest way from Barcelona airport to downtown is Barcelona's yellow and black taxis.
Like most airports you'll need to grab your airport taxi after waiting in a designated line, but for added convenience you can also reserve them in advance:
I recommend getting a free quote and booking your taxi using Taxileader with the button below:
In both Terminal 1 and Terminal 2 you'll find taxi stands right outside after following the signs. There should be a designated worker wearing a fluorescent vest to show you to your car.
There is a minimum charge of €20.00 but you'll pay €30.00 – €35.00 to get central (T1-T2)
You may encounter extra fees for baggage, late night rides, and rides on holiday. It's recommended to familiarize yourself with these fees by reading the brochure on the back of the seat.
You can pay by card but it's recommended to tell the driver in advance.
The maximum amount of passengers is 4. If you need taxis for a larger group call in advance at +34 933033033 – you'll be charged a €4.30 van supplement.
For complaints and lost items make sure you ask for a receipt (un recibo).
Barcelona Airport to City Centre Ridesharing
With the onset of Uber and others I couldn't ignore Barcelona's ride-share app Free Now (formerly MyTaxi) for getting from Barcelona airport to downtown.
If you're looking to get to the city centre fast with no hidden fees and no run arounds this is a highly recommended option. A typical Free Now tariff should run you about €27.00-€35.00.
The best part? You'll pay even less signing up through my Free Now portal.
For a €5.00 discount on your first trip with Free Now simply insert the promo code 'ashley.pil' once you've downloaded the app.
Barcelona Airport Private Transfer
If you're travelling with a group of 12 or more people it's a wise choice to book a private transfer service that will take you from the terminal to your accommodation.
I suggest grabbing a quote on the Suntransfer website for the best prices.
An example: if there are 8 adults, 3 children, and 1 infant the cost of a transfer from the airport to central Barcelona and vice versa costs around €120.00 euros (5 euros pp each way).
Suntransfer also has car seats for kids up to 4.
Tourist Discount Passes for Airport Transport
To save money I recommend buying a tourist discount pass with airport transport included.
There are two tourist discount passes that include unlimited transport + your airport connection: the Hola Bcn and the Barcelona Card.
Buying Tourist Discount Passes Online
It is strongly recommended to buy these passes from home to get a 10% online discount on both the Barcelona Card or a 5% savings on the Hola Barcelona Card.
For buying links and an in-depth explanation of the passes click the button below:
Barcelona Airport Left Luggage Storage
In both airport terminals (T1 and T2) you can take advantage of a left luggage storage service (consigna de equipajes in Spanish) to lighten the load.
In Terminal 1 luggage storage is in the hall on floor 0 (P0) known as La Plaza. It's open 24-7, 365 days a year. Prices range from €6.00 for a 2 hour deposit up to €10.00 per 24 hours.
In Terminal 2 the luggage storage area is located right at check-in under the word Consigna.
Prices are the same as Terminal 1 but opening hours are from 6:00 am to 10:00 pm.
Not keen on airport luggage storage?
It's much cheaper to store your luggage in the city centre at Calle Estruc 36 – right off the city's main square Plaça Catalunya.
Storage is available daily from 8:30 am to 9:30 pm with prices starting at €4.50 per day.
You can book this Barcelona luggage via the official Turisme Barcelona website clicking below:
There's also another interesting offer at Stasher – here you'll select your date, hour, and deposit duration and be given a map of the city and all the potential licensed partners to 'stash' your bag.
The service costs €5.00 for 24 hours.
If you use the code BCNHACKS you'll get a 10% discount and I'll also get a small commission that helps me keep this blog up and running! Everybody wins 🙂
Barcelona Airport to City Center FAQ
How far is it from Barcelona Airport to the city centre?
Barcelona International Airport (aka Josep Tarradellas Barcelona-El Prat) is 14.8 kilometers (9.1 miles) from the airport.
Is there a train from Barcelona Airport to the city centre?
Yes, a national RENFE train service departs from Terminal 2 of Barcelona airport every 30 minutes. The train trip to the city centre takes approximately 25 minutes.
How long from Barcelona airport to the city centre?
The average trip to the city centre with most modes of airport transport is about 40 minutes, while taking a taxi takes about 25 minutes depending on traffic.
How do you get from Barcelona airport to the city centre?
To get to the city centre from Barcelona airport you can take the city bus (46 or N17), the RENFE train from Terminal 2, the Aerobus rapid bus, or a taxi.
How much from Barcelona airport to the city centre?
The prices for Barcelona airport transport are as follows:
TMB Bus 46 (or N17 at night): €2.40
RENFE Train from Terminal 2: €4.60
Taxi: €30.00 (T1) or €35.00 (T2)
Still Looking for the Best Ways to Get to Barcelona from Barcelona Airport?
Getting from Barcelona Airport to the city center isn't rocket science, but if you're still stuck make sure you write me in the comments below.
Also, don't be afraid to join the airport to Barcelona city centre discussion by joining my group I'm Off to Barcelona – here you can ask any questions, air out grievances, and chat with thousands of Barcelona travelers.
Best of luck with your Barcelona airport transfer 🤝